On The Vine! Issue #002
On The Vine!, Issue #002 October 2013
In the pursuit of fine wines...discover a destination...
On The Vine! brings you the latest additions to Hopewell Valley Vineyards' events and experiences in producing "fine wine in the fine Garden State..." If you like this e-zine, please do a friend and me a big favor and "pay it forward."
If a friend did forward this to you and if you like what you read, please subscribe by visiting our newsletter page online
---
Greetings!
The tips of the leaves are changing on the trees, which means we all have a few precious weeks to enjoy the autumn showcase of vibrant colors and cool, beautiful weather.

We've already begun harvesting here at the vineyard, including our Pinot Grigio, Chambourcin, Vidal Blanc, and two types that we use for vintner's blends which would be Traminette and Pinot Noir...

Festivals and other wonderful festivities in general seem to be happening now every weekend, either at the winery here or in other beautiful slices of the state elsewhere.

It's a super fun time of the year to be exploring NJ's farms and countryside...either with your family or friends, the fall season always seems to inspire bonding moments and memories...

So I hope you enjoy the photos below from HVV's happenings last month...and don't forget to read our featured article about the golden rules for storing your own wine!

TWO NOTES:

(1) I'm currently researching and reviewing various wine coolers, fridges, and storage units to then publish an extensive and comparative article on in the future, which I'll certainly share with On The Vine! too...so if you have a wine cooler that you're especially pleased with (or not?) send me a message and I'll add it to my research...Thanks!

(2) I've been burning the midnight oil to launch exciting and flexible new services to HVV online...And while I WISH I could share them with ya'll today - I wanna be sure that everything is running smoothly before unleashing it into the wild world wide web! But as SOON as it's ready, the very MINUTE it's complete, I'll send out a special edition/announcement of On The Vine! sharing the exciting news as well as an exclusive offer for On The Vine! readers only! So be sure to check your inbox next week! You won't want to miss out on the good news! :-)
---
Photo Memories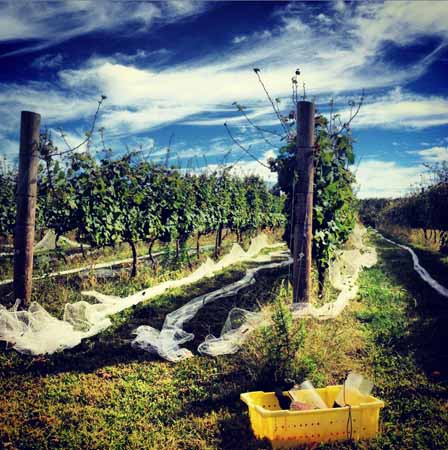 The yellow bins come out from storage and nets are laid down on the ground - this only means one thing at a vineyard...HARVEST TIME!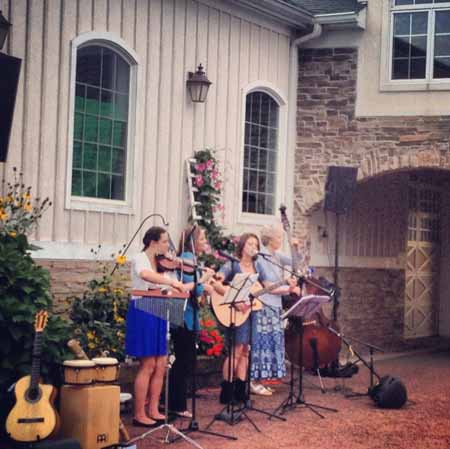 This was a gorgeous Music & Merlot evening event at the winery outside - everything about was just PERFECT!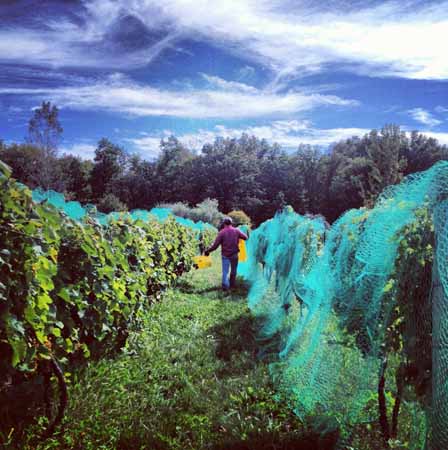 The manual harvest begins with our Pinot Grigio grapes...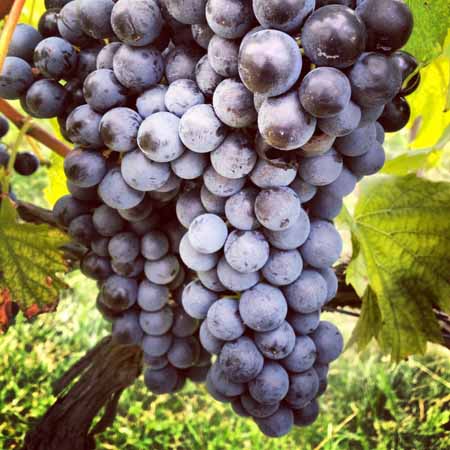 Chambourcin grapes are just so photogenic - I can't ever get enough! Here are the beauties right before being harvested...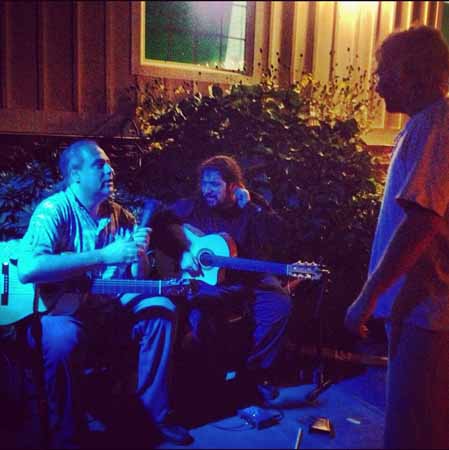 Here is Victor Tarassov, Yannaki Arizza, and Nikiforos (my hubby) talking between songs - Yannaki then played us a beautiful Mediterranean/Greek song...since Nikiforos is from Greece! :-)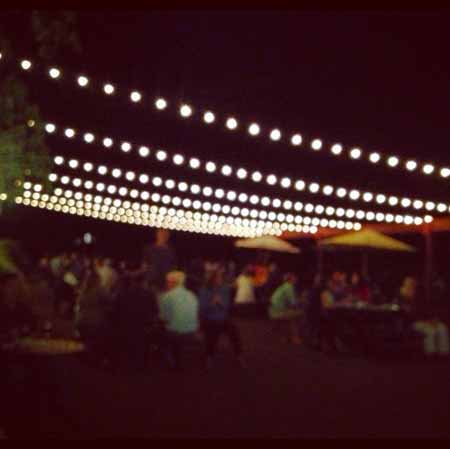 A blurry, impressionistic shot of the piazza lit up at night...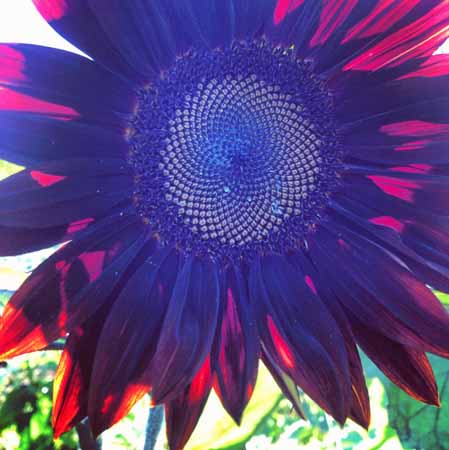 I can't help but add a photo of SUNFLOWERS! They are everywhere now!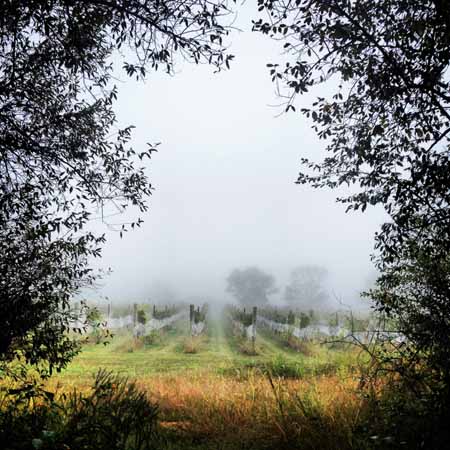 Vineyards in the sunshine are certainly picturesque, but I have to say I LOVE it when a morning fog sits lazily on the land...

Wanna leave us a comment on any of the photos above? You can submit your thoughts by clicking here!
FEATURED ARTICLE - The No-Sweat Simple Tips On How To Store Wine!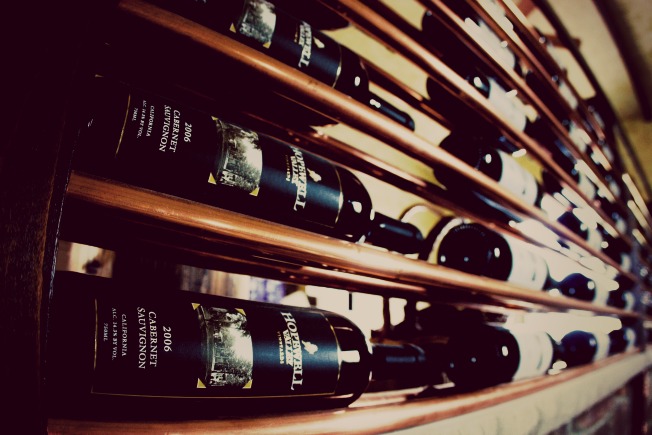 Are you wondering how to store wine because you wanna save an expensive wine for a special occasion?

Great! Let me be of some service!

Here's some tips to make your aging wine a delicious success to toast (and boast!) about:

1. Keep Your Wine Cool...

Your wine's number one enemy is heat, so keeping wine storage temperature within a certain range is absolutely critical. Anything above 70 Fahrenheit will expedite and exacerbate the wine aging, probably in undesirable ways. Keep your bottles between 45 - 65 degrees Fahrenheit and you're half way there.

2. But Don't Freeze Your Wine Either...

Please don't keep your aging wines in your kitchen refrigerator. For a short term solution, it's eh, OK, but push this beyond a couple months and your wine will steadily drop in quality. Remember: your fridge is meant to store meats and milk...not Merlot!

3. Consistency Is King!

Achieving a consistent temperature environment for your aging wines is arguable even more important than the warm or cold factor. Temperature extremes and spikes wreck havoc on a wine chemistry. Beyond just the disappointing, flat flavors your wine will attain if aged in temperature spikes, the expansion and contraction of the bottled wine can even push out the cork. Don't fret about minor temperatures changes, just strive for as much consistency as possible! That's by far the best way I know how to store wine.

4. Block Out The Light!

Keep your wines as far away from sunlight as possible. Heck, even from indoor lights if you can get away with it (more to avoid label fading than anything else). But for the health of your wine, avoiding sunlight is a basic tenet for wine storage. Sunlight carries strong UV rays that will never be fully blocked by the wine bottle glass (no matter how tinted it is!) and can prematurely age your wine.

5. Don't Sweat The Small Stuff!

Humidity is kinda like the afterthought of proper wine storage temperature. 70 percent humidity is considered ideal, but realistically anything between 50 to 80 percent humidity is safe. The biggest danger in too little humidity is drying out the cork, which could allow air seepage and thus oxidation and spoiling of the wine. The biggest danger in too much humidity is molding on the bottle and label. Besides buying professional wine storage units, just do this:

Need more mositure? Place a pan of water nearby the bottles. Need less mositure? Plug in a dehumidifier and call it a day. But mostly, you probably won't ever have to worry about this!

6. You Sleep Sideways; So Does Your Wine!

How to store wine in terms of bottle placement? Simple. Always store your wine bottles on their side to avoid drying out the cork. If you're planning on drinking the wine within a couple of months, don't worry about it. But, on the other hand, sideways wine storage is definitely space efficient, and can do no harm.

7. Shake, Shake, Shake Your Bottle...NOT!

A lot of commotion is already happening inside an aging bottle of wine. Don't agitate or speed up those chemical reactions by unnecessary shaking, transportation, or vibrations of the wine. No - walking down the stairs to your basement/wine cellar is not a threat to your wine. Just don't keep your prized wine in your backpack if you're bull-riding, white-water rafting, ziplining, mountain biking, or skydiving. I think that covers it! :-)

I hope you enjoyed these wine storage tips!
---
Special Announcements
No special announcements...YET! But as I mentioned earlier there's one cooking in the oven! I don't wanna give away too many spoilers, so let's just leave it at that! :-)
---
What Else Is New?
HVV INTERACTIVE PHOTO SHARING! I decided to set up an interactive photo album online where not only can HVV post pictures, such as those from On The Vine! back issues, but also HVVers can share their wine-centric photos and memories as well! Plenty of folks have already inquired about how they can share their pictures with us...so ask and ye shall receive! (Most of the times, anyways!) The beauty with this photo sharing page is that you can add four photos per upload, with descriptions, and you don't need to sign in or sign up for anything - just follow the form prompts for your name, etc, and click the submit button! It's 1-2-3 easy! Plus others can then comment on your photos or submit their own in response...I'm really looking forward to seeing other submissions pop in from time to time! It's always wonderful to see the vineyard through a fresh lens! And to see fresh faces, too! :-)

LEEKS WITH CHESTNUT RECIPE! We picked up leeks at our local CSA this week so I was inspired to share this recipe! (All our posted recipes online utilize wine in the cooking in some way...) Leeks are an often underused vegetable that's incredibly versatile and when well cooked yields a sweet taste with a smooth texture. The beauty of this recipe however is the play of taste and texture between the leeks and the chestnuts and almonds...Add in olives for a pop of salt, and tie it all together with a red wine based sauce...And voila!

WILD MUSHROOM RISOTTO! Another winning recipe for all those mushroom lovers out there! It's not only the time of year to harvest grapes - but to hunt for wild mushrooms! This recipe is a classic twist to Italian-style risotto, and features a light white wine sauce as its base so as not to drown out the delicate mushroom flavors with a heavier, bolder red wine taste...So if you have high quality mushrooms and some extra white wine, this is THE recipe for dinner tonight!
---
HVV MONTHLY CALENDAR & EVENTS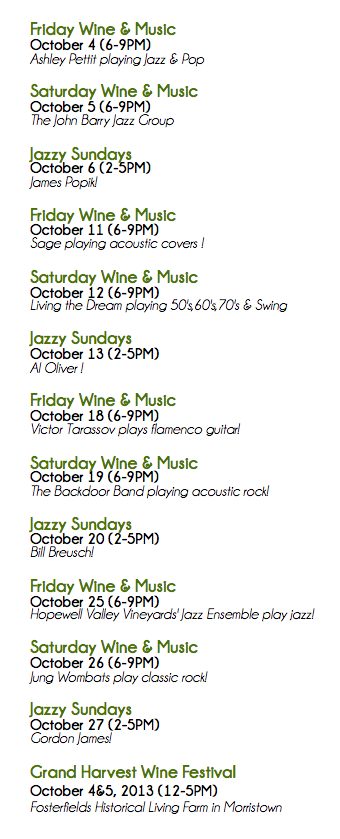 Click here for HVV's online calendar of events
---
Comments? Feedback? Rants? Raves?
Comments? Ideas? Feedback? Stories? I'd love to hear from you. Click here to tell me what you think!
---
That's All She Wrote!
Thanks for stopping by my e-zine!

I hope you enjoy it as much as I do writing it!

Until next time, stay classy and drink some fine wine! :-)

See you next month!

Melina & Hopewell Valley Vineyards
www.enjoyhopewellvalleywines.com
---