On The Vine! Issue #003
On The Vine!, Issue #003 November 2013
In the pursuit of fine wines...discover a destination...
On The Vine! brings you the latest additions to Hopewell Valley Vineyards' events and experiences in producing "fine wine in the fine Garden State..." If you like this e-zine, please do a friend and me a big favor and forward it!
If a friend did forward this to you and if you like what you read, please subscribe by visiting our newsletter page online
---
Greetings!
Halloween has just howled behind us now...and while the evenings are getting chillier, November warms our hearts and homes to holiday festivities, family, and hearth...

Here at the vineyard, the vines were harvested and ready to lull into their winter slumber when they were nipped to sleep by the evening frost a few days ago...Now we'll have to wait until the buds of spring!

But just because the vines are in hibernation - doesn't mean the winery is!

We continue our weekly music events throughout the year...and as the weather gets colder we begin lighting our wood burning stove for a nice and toasty atmosphere!

As the holidays are approaching - I thought it'd be a good idea to share a featured article about restaurant etiquette for wine drinkers...some tips you'll know, others you may be surprised! Let me know what you think!

~**PLUS**~ Scroll below to get the On The Vine! exclusive checkout code for a 22% discount on all online wine orders made on November 22nd! Just in time for Thanksgiving! :-)
---
Photo Memories

Know where you wine comes from? Here's a cluster of grapes showing off some skin inside an HVV glass...a sampling of what's to come! (I'm telling ya'll - this year's Chambourcin vintage is going to be great!)

The vines started turning to a golden yellow hue and became thin and translucent to the afternoon sun...the vineyard takes on a magical 'glow' this time of year when the vines change color..

I took a walk with my sister and niece in Hopewell's park the other day...and while walking over the bridge this is what I saw. I thought it was pretty spectacular and wanted to share! :-)

It was a fun night hanging out with my godparents who stopped by for a surprise visit at the winery last Saturday...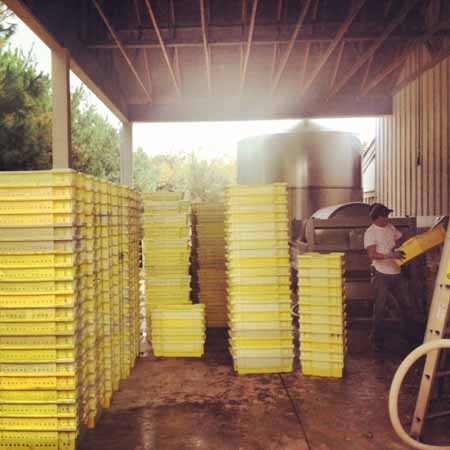 Harvest and crushing our grapes out on our crushing pad on the side of the winery...the yellow bins were like skyscrapers of grapes at some moments!

When you're a wine lover you see wine EVERYWHERE! Even as a shutter latch like this one here I spotted walking about downtown Philly...Old Philadelphians were wine lovers for sure! :-)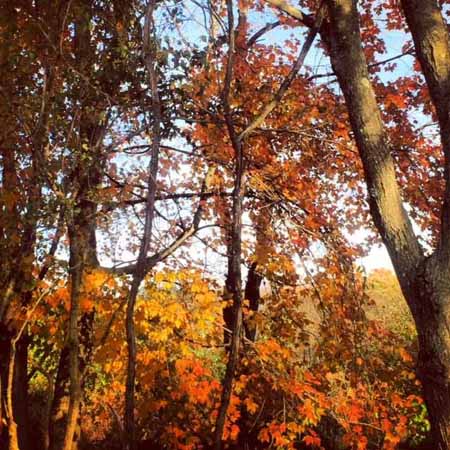 The Sourland Mountains are tipped yellow now, and the back patch of forest behind the winery is also a blaze in beautiful hues...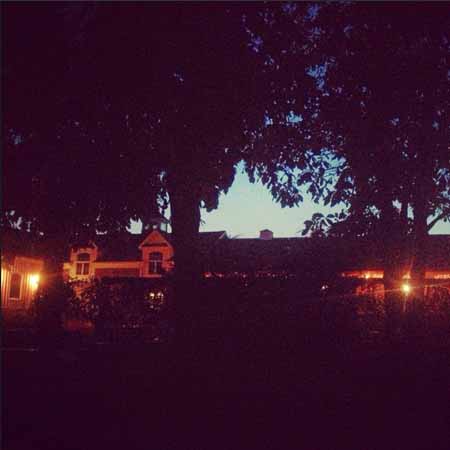 A shot as evening encroaches on the winery on a Friday night music event...

Wanna leave us a comment on any of the photos above? You can submit your thoughts by clicking here!
FEATURED ARTICLE - Restaurant Etiquette For Wine Lovers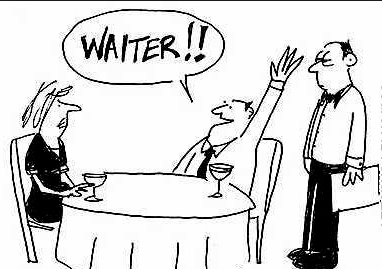 Restaurant etiquette for wine lovers is essential for a pleasant and comfortable night out. Wining and dining go hand in hand, and that's not likely to change any time soon.

Whether you're exploring the many BYO restaurants in your area, or headed to the fanciest restaurant in town with a famed wine cellar, it's important to know what to expect while drinking and being served wine at restaurants. It helps you, your table guests, and the wait staff feel more comfortable throughout the evening.

Here are six basic rules of restaurant etiquette (and wine etiquette) to keep in mind:

Restaurant Etiquette Rule One: The Ice Bucket.

Most wait staff will assume you want an ice bucket for your white and sparkling wine selections.

But check the bottle itself before plunging it in the ice - oftentimes the wine is already plenty chilled to be served, and over-chilling can actually diminish your wine drinking experience.

If your white wine is already in an ice bucket but you think it's getting too cold, remove it, wipe it off with the adjacent towel (which should be draped next to or around the ice bucket), and leave it on the table for several minutes before serving.

If you have other wines in the bucket saved for later in the meal you can happily leave the ice bucket where it is.

But if you're only planning on drinking the one white that's on the table, kindly ask the waiter to remove the ice bucket.

In contrast, red wines are oftentimes a bit too warm to be served immediately, and a few minutes in the ice bucket can do wonders to reviving a heat-exhausted red before consumption.

Even if it's against 'wine code' and your server looks at you like an alien, ignore the stuffy stares and move on - just be sure you don't over-chill a red, which can happen suddenly and quickly.

Just 3-4 minutes in the ice bucket should suffice for a red.

Restaurant Etiquette Rule Two: The Wine Glasses.

Most restaurants stock various sized wine glasses to meet every occasion.

If you feel their standard wine glasses that have been already placed on the table are too small to enjoy red wine (leaving too little space for sniffing and swirling) kindly ask your waiter if larger stemware is available for your reds.

Most times there are other glasses available, and if not, a stemmed water glass, which usually has a bigger belly than their elegant wine glass counterparts, can also do the trick.

While this may seem at first glance a snobby request - it really isn't...

Larger wine glasses, appropriate for red wine drinking, help both you and the restaurant avoid embarassement of spilled red wine all over the white table cloths after a slightly too vigorous swirl - which is a likely outcome of using short and improper stemware.

Restaurant Etiquette Rule Three: Decanting the proper wine at the table.

Several types of wine do well with a bit of wine aeration prior to being drunk in order to soften their tannic punch and allow their other flavors to unfold.

Uncorking the bottle alone will not suffice, so you have two other options.

The first and best option is to ask the wait staff if they can provide you a decanter to aerate your wine at the table.

Any good restaurant that knows wine will be able to provide one without question.

If it's a homely, smaller BYO establishment unequipped with too many wine accessories, simply pour the wine into their biggest stemware and wait a bit longer.

Restaurant Etiquette Rule Four: Keep the bottle nearby.

Having the wine bottle nearby allows you and your guests to engage with the wine you ordered more deeply.

You can inspect the wine label, check out the producer, distributor, and alcohol content on the back label, pass around the bottle, examine the cork, etc. Perhaps you picked up your favorite wine from a local New Jersey winery, and want to open up a conversation about it with your friends - having the bottle nearby is an easy conversation prop and centerpiece.

Plus, with the bottle in arms reach, you don't have to wait for your server to refill your glasses, you gain back control of the flow of wine at the table, which also helps deter waiters who quickly over-fill empty glasses as a sneaky strategy to entice your party to order a second or third bottle when it'd be otherwise unnecessary.

Restaurant Etiquette Rule Five: Know the wine presentation ritual.

The wine presentation ritual is an important element to wining and dining, and knowing what purpose each step serves will take away its inherent awkwardness and allow you to truly make the right decisions as needed.

Feel comfortable to refuse any wine that tastes or smells unpleasant - it could have cork taint or could have been aged incorrectly.

Whatever the reason, by knowing the wine presentation ritual and when to do what, you'll cut down these chances and keep things flowing beautifully.

For a full description of the wine ritual and how to ace it - click here.

Restaurant Etiquette Rule Six: Bringing your own wine?

While of course BYO restaurants are designed to accept beer and wine (although hard liquor is usually not permitted), most other restaurants that have their own wine lists, allow guests to bring in special bottles for special occasions, although you should always call ahead of time, out of consideration to ask.

Usually the restaurant will charge a corkage fee (to cover costs of serving the wine, the stemware, etc) that ranges from $10 to $30 per bottle, so be prepared for this extra charge and don't wait until the bill arrives to dispute it.

The more extensive the restaurants wine list, the more hefty the corkage fee is likely to be. BYO's are usually pretty reasonable.

Also - and this should really go without saying - don't think it's acceptable to bring in a wine that's already listed on the restaurant's wine list.

Yes, you may have procured it at a cheaper price elsewhere, but restaurants are businesses too, and every business has its own price mark-ups, overhead, risks, and etiquette.

If you're simply looking for some cheap wines, Trader Joe's offers plenty, and while you're there you can pick up a variety of food and make a night out of it at home.

Otherwise, if it's a restaurant atmosphere you're after, be prepared for an extra mark up, and be okay with that.
---
Special Announcements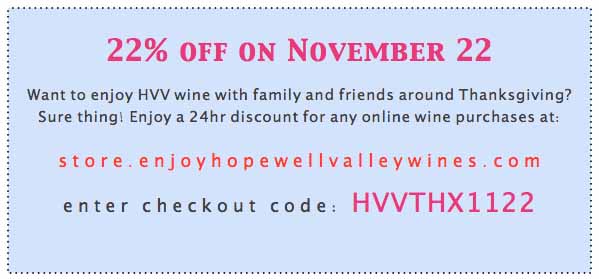 Be sure to take advantage of this exclusive On The Vine! offer for November! Stock up on your favorite HVV wines for the many parties, dinners, and outings that'll fill up your schedule around the holidays... Cheers!
---
What Else Is New?
HVV experiments with organic vineyard maintenance! This summer HVV started experimentations with spraying a natural compound for vine maintenance that it organic-approved. Read about it here!

Study reveals: Red wine reduces breast cancer Check out a recent study about how red wine correlates in lowered breast cancer rates...

Stuffed Turkey Rolls Enjoy another great recipe from our archives - and add a "twist" to your Thanksgiving Day Turkey with these delicious stuffed turkey rolls! Check 'em out - they'll be the talk of the table!
---
HVV MONTHLY CALENDAR & EVENTS
Friday Wine & Music November 1 (6-9PM) Full Moon Howlin' playing Country

Saturday Wine & Music November 2 (6-9PM) Chris from Rave On playing Buddy Holly, Roy Orbison, The Beatles, along with other legends.

Sunday Wine & Music November 3 (2-5PM) Al Oliver

Friday Wine & Music November 8 (6-9PM) Bob Tomlinson playing the Blues

Saturday Wine & Music November 9 (6-9PM) Four +1 playing Jazz

Sunday Wine & Music November 10 (2-5PM) Gary Mazzarulli playing Jazz

Friday Wine & Music November 15 (6-9PM) Darla & Rich playing Jazz

Saturday Wine & Music November 16 (6-9PM) The Lifters playing rock & R&B

Sunday Wine & Music November 17 (2-5PM) Al Oliver playing Jazz

Friday Wine & Music November 22 (6-9PM) John Bastiani playing pop/rock

Saturday Wine & Music November 23 (6-9PM) Craig Leach Duo playing classic rock

Sunday Wine & Music November 24 (2-5PM) Gary Mazzarulli playing Jazz

Friday Wine & Music November 29 (6-9PM) Hopewell Valley Vineyards' Jazz Ensemble playing jazz

Saturday Wine & Music November 30 (6-9PM) Acoustic Road playing classic rock

We will be closed on Thursday November 28 (Happy Thanksgiving)

Holiday Wine Trail November 29-December 1 (12-5PM) Wine Tasting $6 per person (includes 6 1/2 oz samples and etched wine glass) visit www.newjerseywines.com for more info and participating wineries

Click here for HVV's online calendar of events
---
Comments? Feedback? Rants? Raves?
Comments? Ideas? Feedback? Stories? I'd love to hear from you. Click here to tell me what you think!
---
That's All She Wrote!
Thanks for stopping by my e-zine!

I hope you enjoy it as much as I do writing it!

Until next time, stay classy and drink some fine wine! :-)

See you next month!

Melina & Hopewell Valley Vineyards
www.enjoyhopewellvalleywines.com
---