Alexander Valley Cabernet Sauvignon
Vintner's Comment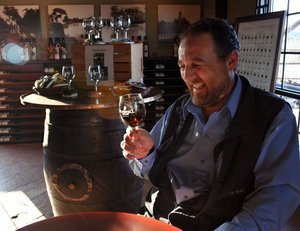 Sonoma County, which is a U.S. wine appellation and one of the most famous wine regions in the world,  is the home to the Alexander Valley, which is a wine region well known for producing both excellent Merlot and Cabernet Sauvignon.
We source these Cabernet grapes from Alexander Valley so we can produce a top quality California-style Cabernet.
It's a wine that is made 100% with Cabernet grapes, which we bring crushed and chilled.
So basically the grapes go through a cold maceration process during transit.
Beyond the grapes being refrigerated at all times, the fact that they're already crushed means that there are no dry spots to cause problems - its essentially wine must.
Once they arrive here at the winery, we cool them, and start the fermentation process and all the rest necessary to transform the grape must into a crafted wine.
So the maceration helps for color and extraction of various phenols as well.
Most bulk Cabernets have a characteristically intense color and this one is a completely full-body, with 14.9% alcohol..so it's definitely up there. 
It comes from very rich and mature fruit, so that's why both the color and alcohol tend to be so bold.
So it displays a very strong black berry and wild berry profile and flavors, leaning towards a chocolatey characteristic I would say. 
Our Alexander Valley Cabernet is usually aged in French or Hungarian oak for fourteen months, anywhere between twelve and sixteen months, depending on how I see the vintage coming along.
Now the new vintages are going to be in larger barrels, of 150 gallons, all French oak. But up till now we aged them in regular-sized barrels. 
Then the wine is aged in the bottle for six months before reaching the shelves.
So it comes out with a very intense flavor and structured tannins - which then gives way to smoother tannins and a longer, pleasant finish. 
And as with all our HVV reds, we suggest this wine with meat dishes, and aged cheese. 
This wine came to be not because I was set on making an Alexander Valley Cabernet Sauvignon.
It came to be because I fell in love with the grapes. Dark, small berries. Very intense fruity flavor.
So I asked my friend, who is a wine maker in New York, where he had gotten these fabulous grapes.
And he told me from Sonoma County, and from a producer he knew and trusted.
And I thought to myself, I just have to make a wine with these grapes!
It's one of those wines that sort of happened - through a strong creative impulse that's impossible to ignore...
Return from: Alexander Valley Cabernet to Buy Hopewell Valley Wines
Return to Homepage: New Jersey Wineries Making a Splash!

Have A Great Story About This Topic?
Do you have a great story about this? You can share it here without needing a Facebook account! You can even upload pictures!
Dec 04, 14 04:30 PM

When France lost Algeria in 1960, a great worry of winemakers wad what are we going to do now? French wines from many regions WERE B,ENDED WITH MUCH STRONGER

Dec 04, 14 03:26 PM

How to make port wine - delicious, heart-warming, the perfect gift

Nov 01, 14 04:25 PM

Wine accessory shopping for the holidays