About Hopewell Valley Wines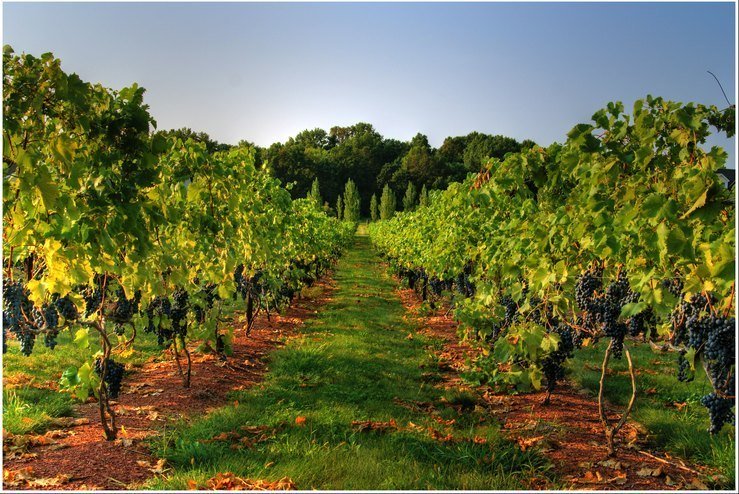 Hopewell Valley Vineyards is a local gem New Jersey can be proud of.
We're a winery that's dedicated to producing handcrafted wines by Blending Old World Flair with New World Style.
Our mission is to provide a beautiful and relaxing environment to taste world class wines, enjoy friends, and create lasting memories to cherish for a lifetime.
We have melded three generations of European wine making experience with meticulous vineyards planted with vinefera that thrive in New Jersey's increasingly respected terroir as well as in our farm's microclimate. 
Our finely-crafted wines have dependably returned with medals from hundreds of local, national, and international wine competitions.
For example, at the  2012 Finger Lakes Wine Competition 16 of 17 submitted wines were  selected as winners, amongst 3200 wines from 22 countries.
Other highlights include the New Jersey Governor's Cup for our 2006 Chambourcin, and Best In Class awards, including our 2009 Merlot which scored 92 at the International Los Angeles Wine Competition.
Check out the news for 2013 wine awards as they're rolling in...
Our award winning wines paired with our Old World hospitality creates a winery that is not only a place to purchase excellently produced local wines...but also a destination in itself. 
About This Site
Melina here, to share a bit about how this site works... 
This site serves two important purposes: 
the first is to offer the convenience of online orders and direct shipping to HVV customers near and far...
the second is to offer up mounds of wine information and to simply share our great obsession with wine to the world! 
There are so many wine lovers (and soon-to-be-wine-lovers!), who can learn and share and celebrate the magic of wine right alongside us here are Hopewell Valley Vineyards and online.
Which to be honest comes fairly easily with something as captivating as wine. You soak in wine gastronomically, culturally, and sometimes literally.
But in the beginning so many people feel like foreigners...

But really, no one is born knowing what it means for a wine to 'breathe'...
It's a whole wide world of wine out there, and while it's an exciting subject, oftentimes it gets overshadowed by its own sweet glory. 
So here at Enjoy Hopewell Valley Wines, Sergio and I are the website's bookends:
Me on the one side. The Italian wine maker on the other. 
And all of our fellow wine-curious or wine-enthralled visitors in between! 
Living on 'the other side of the wine bottle' has made me realize that wine should be accessible to all - not just a select few.
At its best, wine connects people.
It flows abundantly in our most meaningful celebrations.
It flows freely on a simple evening amongst friends.
It was never meant to be stuffy, academic or overly complicated.
It's meant to 'breathe'!
Because what is wine, really?
Grape juice with a little magic. Sundrops in a bottle. Uncorked liquid poetry....

It's everything and it's nothing. It's what we make it.

So let's make it something we can cherish in our lives.
Melina, Sergio, & Violetta in HVV's newly finished barrel room around the Holidays 2012

* * * * * * *
To be kept in the loop on HVV happenings...
join our monthly e-zine On The Vine...
WHAT ARRIVES IN YOUR INBOX:

winery events




monthly calendar

upcoming festivals

feature articles

product reviews

wine interviews

exclusive offers

and more! 
On The Vine is sent at the beginning of each month, straight to your inbox!
* * * * * * *
* * * * * * *
---
Have A Great Story About This Topic?
Do you have a great story about this? You can share it here without needing a Facebook account! You can even upload pictures!
Dec 04, 14 04:30 PM

When France lost Algeria in 1960, a great worry of winemakers wad what are we going to do now? French wines from many regions WERE B,ENDED WITH MUCH STRONGER

Dec 04, 14 03:26 PM

How to make port wine - delicious, heart-warming, the perfect gift

Nov 01, 14 04:25 PM

Wine accessory shopping for the holidays