Wine Lovers Gifts
In some ways, wine lovers gifts are the easiest gifts of all!
From a classic bottle of wine, to a wine gift basket, wine accessory, or wine books - there are endless possibilities available to help you delight in the world of wine. 
Like Hopewell Valley Vineyards, many of the wine shops of New Jersey wineries also sell a variety of wine accessories - allowing you to get creative with customized gift baskets or the perfect wine gift bags.
So reduce your stress around the idea of gift-giving...come to the delicious wine-colored side of life! 
Wine Lovers Gifts: Idea #1: Wine!!
Wine makes an excellent gift, period.
It's elegant, simple, and highly personal.

Consider bringing wine for house warming and holiday parties, anniversary celebrations and other special occasions.
It's the no-sweat solution to your gift-giving needs! 
For example:
I have a cousin who is a busy lawyer in center city Philadelphia.
A couple years ago, he thought of a brilliant idea to eliminate his holiday shopping list and stress, for co-workers, clients, and friends. 
Solution?
Simple: He pops by the winery for an afternoon visit and tasting, and leaves stocked for the holiday season with a couple of cases of wine.
He then discreetly leaves a bottle of wine on co-workers desks in the morning as a pleasant surprise (no card, no anything...he says "they all know who its from...") and keeps extras in his office for when a client or friend stops by for a visit.
It's the perfect wine gift that matches his style, personality, and profession. 
Best part is - it's a delicious local product that most everyone can enjoy and appreciate, and it has a story behind it.
Wine Lovers Gifts: Idea #2:
Wine Bottle Openers
A helpful hint: Accessories, like wine bottle openers, are a great way of buying a wine lover a much appreciated gift, without necessarily needing to know their oftentimes complex wine tastes and preferences.
From among the many choices, consider special wine bottle openers such as the popular Oster 4207 electric wine opener that makes opening a bottle of wine a breeze.

If you're not a gadget guy/gal, there are loads of traditional corkscrew wine bottle openers available as well!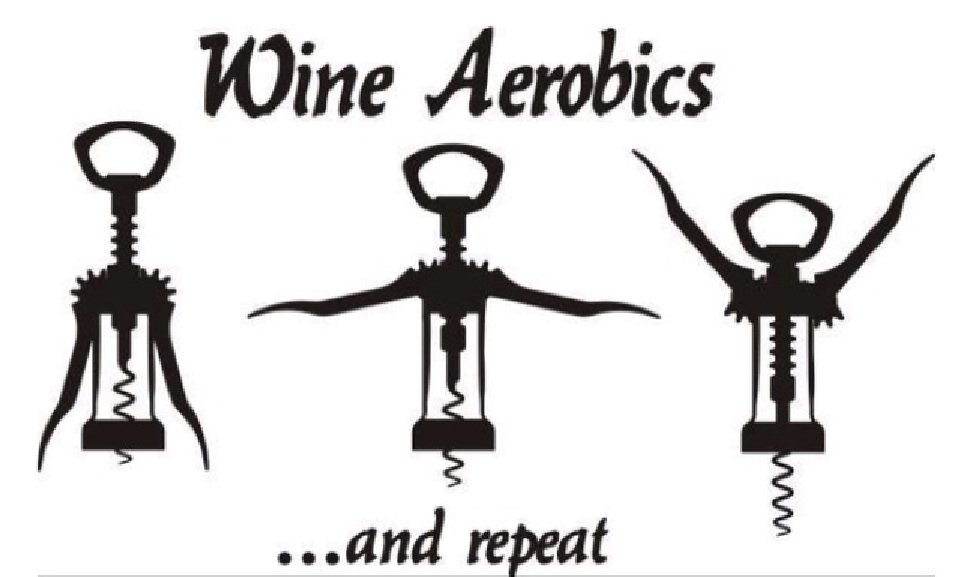 Wine Aerobics humor! 
Disclaimer: I found this image on Pinterest.
Originally pinned by Alicia Branham. 
Wine Lovers Gifts: Idea #3:
Online Wine Orders & Direct Shipping
Thanks to the speed and efficiency of the internet, and how it's transforming businesses big and small all over the world, you now always have the convenient option to purchase wine online for a gift – it's certainly fast and easy to do!
And what really makes this exciting for New Jersey wine growers is this awesome political breakthrough:
As a stamp of solidarity and support for the budding New Jersey wine industry, Gov. Chris Christie signed into law a bill in May 2012 that gives New Jersey wineries the right to offer direct shipping to customers all over the country.
So direct shipping + online ordering of wine is an amazing new flexibility and convenience that New Jersey wineries can offer to wine lovers near and far.
This means that if you have family in, let's say, Colorado, and would like to send them a taste of local New Jersey wine from your area, you can order directly on many sites, including this one!, and have it directly shipped to your family's front door straight from the winery! 
We can add handwritten cards with a special note, or include in the gift order a gift certificate as well. 
Wine Lovers Gifts: Idea #4:
Wine and Gourmet Gift Basket
It's quite likely that the wine lover in your life already has a couple of bottle openers...(makes sense right?!)
Fear not!
You have other more gourmet wine gift options, including wine in culinary recipe books, wine pairing guides, wine & food wheels, wine & cheese wheels or even going the extra mile to gift foods that best complement fine wines (imported Greek cheese, anyone?).
A wine and gourmet gift basket is a popular option, though beware that delivery of such delicate items can get costly and have a higher potential to break in transit than sturdier cases of wine...
That's why here at Hopewell Valley Vineyards, we only deliver wine and gourmet gift baskets, custom wine gift baskets, holiday wine gift baskets, and corporate gift baskets on a LOCAL level, where we can be sure to handle the shipment ourselves with care.
It's one of the perks of being local, right? ;-) 
We offer wine gift basket delivery in all of MERCER COUNTY, and parts of BUCKS COUNTY.
If you're in the area and are interested in have one of our gourmet and wine gift baskets delievered to you, a friend, or a client, fill out the order form! 
---
Click on to Wine Lovers Gifts PART TWO:
Choosing Wine Gifts Wisely & Wine Gift Ideas
* * * * * * *
---
Quick Links:
Have A Great Story About This Topic?
Do you have a great story about this? You can share it here without needing a Facebook account! You can even upload pictures!
Dec 04, 14 04:30 PM

When France lost Algeria in 1960, a great worry of winemakers wad what are we going to do now? French wines from many regions WERE B,ENDED WITH MUCH STRONGER

Dec 04, 14 03:26 PM

How to make port wine - delicious, heart-warming, the perfect gift

Nov 01, 14 04:25 PM

Wine accessory shopping for the holidays