Discovering Local Wine Events
Before we consider the actual local wine events, keep in mind that New Jersey wineries are no longer considered as second best...
They have achieved status as premier wine producers, as demonstrated through the playful Judgement of Paris spinoff, the "Judgement of Princeton" which was held in Princeton, New Jersey in the summer of 2012.
New Jersey wineries are also receiving much positive press lately: The New York Times came out with two articles this past summer about the rise of the NJ winery. And NPR also did a special on NJ wine, too. 
The awards New Jersey wineries receive are diverse, from state, to regional, to national, to international levels.
If you wish to discover the best NJ wines, it is not so hard to do...
Make the trip to New Jersey's Top Attractions. You'll discover a plethora of activites, historic sites, beaches, and wildlife at your fingertips.  Plan your trip to coincide with any of the many events focusing on or including New Jersey wine tasting.
You can sample delicious local wine through a number of means, like ordering online, or by visiting a nearby winery, or participating in a wine tasting party, or wine festival. 
Local Wine Events: Wine Tastings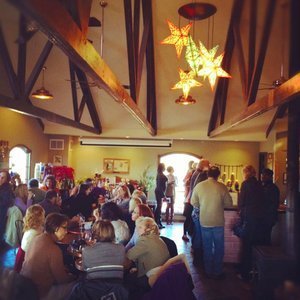 Wine tasting in New Jersey occurs throughout the year. For wine tasting New Jersey offers several choices. Some of these events take place at a local winery.
Wine tasting in NJ can also occur as part of organized events.
They often highlight a specific New Jersey winery or group of wineries. In 2012, NJ wine tasting events included:
Wine Tasting and Appetizers, Phillipsburg (February) featuring wines European style blended wines from Villa Milagro Vineyards.
Annual Spring Fever Wine & Food Tasting (April) consisting of award winning wines from various New Jersey wineries
Yet, NJ wine tasting is not the only means of acquainting yourself with wine.
It goes beyond local tastings.
Go beyond a local NJ tasting wine event and consider getting in your vehicle and following along the various wine trails.

Local Wine Events: Wine Trails

Scheduling a Wine Trail into a weekend is another means of discovering the best wines in New Jersey. There are two options: follow a set Trail or create your own Trail. Among the popular Trail events are:
Garden State Wine Grower's Association's "Barrel Trail and Wine Tasting Weekend." This allows visitors to sample the wine directly from the barrel at various wineries who participate in this event
Atlantic County Wine Trail features several wineries including Bellview and Coda Rossa
Cape May Wine Trail includes Natali Vineyards, Jess Creek Winery and Hawk Haven Vineyard
Gloucester Salem Wine Trail comprises, among others DiBella Winery, Heritage Vineyard and Southwind Vineyard and Winery
Shore Wine Trail includes several wineries including Silver Decoy Winery, Cream Ridge Winery and 4JG's Orchards and Vineyard
Sussex Wine Trail consists of Cara Winery and Vineyard, Ventimiglia Vinery and Westfall Vinery
Warren Hunterdon Wine Trail whose participants include Brook Hollow Winery, Four Sisters Winery at Matarazzo Farm and Hopewell Valley Vineyards

Local Wine Events: Wine Festivals

In addition to wine tastings and wine trails, there are also several festivals held in New Jersey. They celebrate wine, food and other beautiful aspects of life. Consider checking out the following festivals:
Pour Into Summer Wine Festival on Long Beach Island. This festival occurs in May and combines great food with live entertainment and over 250 local wines
4th Annual Grand Harvest Festival takes place in Milford (September.) It is a benefit. Attendees can sample wine from several local wineries as well as listen to the music of various bands
Cape May Wine Festival takes place in Cape May (October) - October 6, 7, 2012
Jersey Shore Wine Festival occurs in Lakewood (June.) A family event, besides live music it features sampling of various New Jersey award-winning wines

Enjoying New Jersey Wine
Attending local wine events is an excellent way to discover the best in New Jersey wines.
From wine tastings to Wine Festivals, it is easy to find which wine is for you.
New Jersey wineries are open for visits.
They also provide tours and special events.
Check out our online events calendar for up to date information on dates, musical events, festivals, and tours at the winery!

* * * * * * *
---
Have A Great Story About This Topic?
Do you have a great story about this? You can share it here without needing a Facebook account! You can even upload pictures!
Dec 04, 14 04:30 PM

When France lost Algeria in 1960, a great worry of winemakers wad what are we going to do now? French wines from many regions WERE B,ENDED WITH MUCH STRONGER

Dec 04, 14 03:26 PM

How to make port wine - delicious, heart-warming, the perfect gift

Nov 01, 14 04:25 PM

Wine accessory shopping for the holidays
Quick Links: