Wine accessory holiday shopping
Where's my wine accessory? Holiday shopping for wine lovers.
                                                                                     by April Tiger
LET'S TALK BOUT THE HOLIDAYS SHALL WE? The Holidays are quickly approaching and every year it seems more difficult for those wine enthusiasts among us to gift that perfect wine in that perfect way. Packaging that promises the intended recipient that we put our best foot forward in the presentation of this awesome gift, is only half the battle.Once you have found the perfect wine how do you decide which accessory will compliment your endeavor? Every year we find more elaborate and often more expensive additions on the market that say hey "I know you may never use this but I bet you don't own one of these!"
Wine Accessory Holiday Gift Idea #1 - Bringin' the Turkey!
Well, humor aside for a moment, (and one moment only) I have just spent hours gazing through this year's picks of sought after wine lover's accessories that I hope will not put your budget on overload and will undoubtedly keep your sensibility and your sense of humor in check!   
This year, on the "can't live without it" list, there promises to be something to amuse everyone! With Thanksgiving just around the corner, why simply bring the bottle when you can bring the turkey too? (Seriously, if you pick the wrong wine for your host at least you can bring the center piece or at the very least a conversation starter!) 
Wine Accessory Holiday Gift Idea #2 - Power drill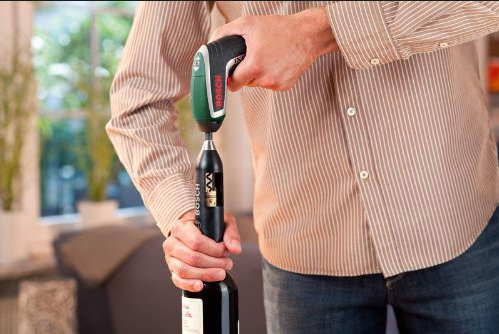 Perhaps you are looking for that gift that brings out the inner power in that special man in your life! Search no longer! Not only will this mighty attachment get those bottles open, but perhaps serve up a subtle reminder of a few of those jobs you need completed around the house! (Just a word to the wise, you may want to attach the corkscrew to the drill after the shelves get put in.)    
Wine Accessory Holiday Gift Idea #3 - Wine Pajamas
Just in case you were wondering, there is something out there for everyone on your gift list, even the contemporary wine lover. Need a gift that encourages rest and relaxation for that workaholic in your and an abbreviated pair for those warm months! (we call this White Port season) Although the pants scream wine lover, there is no top included. Perhaps an oversight….or not? :-) 
Wine Accessory Holiday Gift Idea #4 - Wine Chilling Wand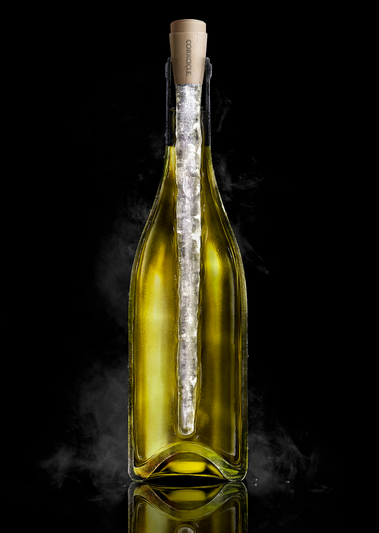 Now, if by some rare chance you have not been completely awe struck by these entertaining finds, let me entice your gift giving spirit into the unthinkable future. At this time of year with the cold crouching at our door this future would appear to be summer.
Ah summer, the time of year when it is difficult to keep everything as cool as people always prefer. Enter in the next questionable source of appropriateness in the wine world, possibly for some an option to a good old fashioned ice bucket; the wine chilling wand!
This wand gets placed in the freezer and then inserted into a bottle of wine, hopefully white, possibly red (you know there is one in every crowd) to keep that wine just at the preferred temperature. If this does not really work out the way one expects it should, it can be used as either a scepter to rule over the domicile kingdom or it might come in handy for turning a frog into a Prince or a couch potato into a an awesome chef. (It's your wand, turn whatever you want into whatever you please!) 
Wine Accessory Holiday Gift Idea #5 - A Bike Wine Rack?!
Well I trust I have given all of you holiday shoppers some food for thought where gift giving is concerned, and of course I have saved the best for last. (Sorry, I just couldn't resist this one)
Imagine a beautiful autumn day in Hopewell, touring the country side on your bike with the frog, I mean Prince.  As luck would have it, you stop at the beautiful Hopewell Valley Vineyards. Well this probably just became the best bike ride of your life! But alas, you would like to take a bottle of HVV wine with you, however will you manage this on your bike, you wonder. Fear not! 
Someone apparently has either way too much time on their hands or they had a stroke of genius, perhaps both! Now your day is complete with your wine bottle carrier attached to your bike you are ever so prepared. FYI, don't ride with an open bottle, not only could you get a BUI but if you hit a pot hole you could have wine leakage and this is a terrible waste. 
Happy shopping!
---
Have A Great Story About This Topic?
Do you have a great story about this? You can share it here without needing a Facebook account! You can even upload pictures!
Dec 04, 14 04:30 PM

When France lost Algeria in 1960, a great worry of winemakers wad what are we going to do now? French wines from many regions WERE B,ENDED WITH MUCH STRONGER

Dec 04, 14 03:26 PM

How to make port wine - delicious, heart-warming, the perfect gift

Nov 01, 14 04:25 PM

Wine accessory shopping for the holidays