New Jersey Wineries Making A Splash!

New Jersey Wineries are transforming the Garden State into a veritable, thriving wine country.
I can't tell you how wonderful it feels to sit on the deck of my family's New Jersey winery as first time visitors slowly walk up to the door, scanning the lush grape vines, eyes widening.
And then within minutes of their first NJ wine tasting, their smiles widen too...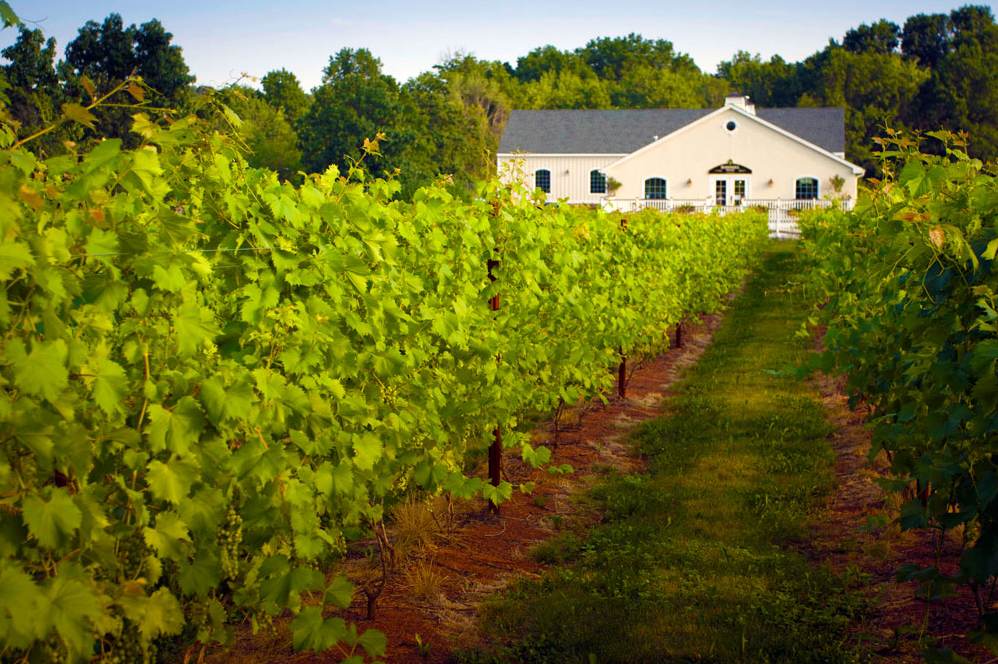 Summer vines at my family's Hopewell Valley Vineyards, near Princeton New Jersey.

Dec 04, 14 04:30 PM

When France lost Algeria in 1960, a great worry of winemakers wad what are we going to do now? French wines from many regions WERE B,ENDED WITH MUCH STRONGER

Dec 04, 14 03:26 PM

How to make port wine - delicious, heart-warming, the perfect gift
A new wave of 'Bottleshock'...

It reminds me of the the wonderful wine movie Bottleshock. (Haven't seen it yet? Please do so!)
It's the true story about how California beat France in a blind wine tasting competition held in 1976, which has since gone down in legendary wine history as The Judgement of Paris.

While not as well known as the West Coast variety, East Coast wines are becoming increasingly hard to ignore.
Today, over 30 years after that historic event rocked the wine world, many visitors to New Jersey wineries are experiencing a brief 'shock' of their own...
They just can't believe their eyes or their taste buds...

...these are New Jersey wines?!...
I'm giddy over here to confess the obvious: these most certainly are New Jersey wines!
Sterling New Jersey wines produced at top-notch New Jersey wineries.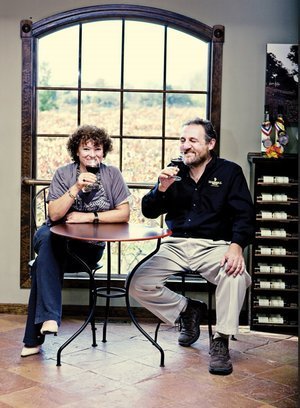 Wine New Jersey style is becoming more than a local fad: it is now a wine region recognized nationally and internationally.
My family's Hopewell Valley Vineyards is one of the many great NJ wineries making it all happen, upholding the tradition and aesthetic of old world European wines while always innovating for a new world twist.We're 'uncorking the possibilities' with what New Jersey vineyards can grow and produce.
And Hopewell Valley Vineyards is a local gem New Jersey can be proud of...
Besides local events, festivals, tastings, tours, and private events, we are so much more than just a pretty farm setting.
Just check out the individual profiles of our award winning wines and then read about our take on wine competitions and medals and our 2013 awards to date. 
Welcome wine lovers from near and far!
Whether you're a Jersey native that frequently visits the state's wineries for tastings, music events, or festivals, or new to the wine world altogether - welcome!!

This site not only showcases Hopewell Valley Vineyards' exclusive online catalog and wine outlet, but also offers an abundance of wine-related articles to help you engage and explore the beautiful world of wine.

And rest assured that there are loads of wine articles on this site that will answer your questions about wine.
Plus, you'll gain a new-found appreciation for our tiny Garden State, and the high quality, gourmet, and value-added farming products you can find here in abundance!
You'll be pleasantly surprised at the variety, quality, and passion New Jersey wine makers are gaining a reputation for.
Come join us in celebrating the growth of a new wine country that's got a lot to be excited about...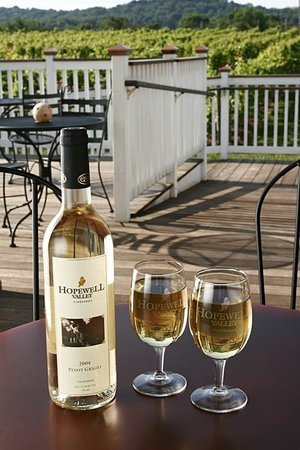 Discover the wonderful world of wine...
These informative articles dive into a range of characteristics of wine and wine production:
Don't know where to start? What about a quick wine 101 lesson...
Wanna spice up your cooking? Consider learning about cooking with wine...
Heading off to a dinner party? Here's a simple wine pairing chart...
Or you might be curious as to how to make wine...
Learn to judge wine quality, methods of tasting, and even how to best consider the role of wine ratings...
Craving a great gift for a wine lover? Consider special wine bottle openers like the popular Oster 4207 electric wine opener that makes opening a bottle of wine a breeze.
Buy award-winning wines lovingly produced at Hopewell Valley Vineyards and have it shipped right to your doorstep!
And what if you still have lingering wine questions? Simple: drop me a line under our FAQ page and I'll post my best response. If it's one that stumps me - I'll ask wine maker Sergio Neri to divulge us all in a more 'full-bodied' answer! :-)
No Whining About New Jersey Wine...
New Jersey vineyards and wineries can rightly boast about the fine wine they produce...you can read here a recent article featuring New Jersey wineries including Hopewell Valley Vineyards in the New York Times.
As an industry we've reached (and passed) a turning point - we've matured as grape growers and wine makers.
And we're all passionate and proud of our end product.

Attend a wine tasting to quickly discover the different types of wine that work best in New Jersey.
Of course, when you can visit vineyards in Napa, Tuscany, or the Loire Valley...
GO FOR IT! We won't hold it against you...send us pictures in fact! Share with us your personal wine stories!
But, at the end of the day, isn't it also nice to have a small 'slice of Tuscany' right in your backyard to come back to...?

...of course it is!
That's why Hopewell Valley Vineyards, along with other New Jersey wineries, will put a smile on your face, too.

---
Craving more?


Click over to our online store to find all our currently available vintages, event tickets, great seasonal gifts, and accessories! 


And remember:

Case orders come with FREE SHIPPING - throughout the US!
Have A Great Story About This Topic?
Do you have a great story about this? You can share it here without needing a Facebook account! You can even upload pictures!
What Other Visitors Have Said
Click below to see contributions from other visitors to this page...

Harvestfest last weekend

We thought you and Alba had the best wine last weekend! You were certainly the busiest! We took advantage bought a few bottles the enjoy there and many …