Vineyard Weddings
The stuff of fairy tales!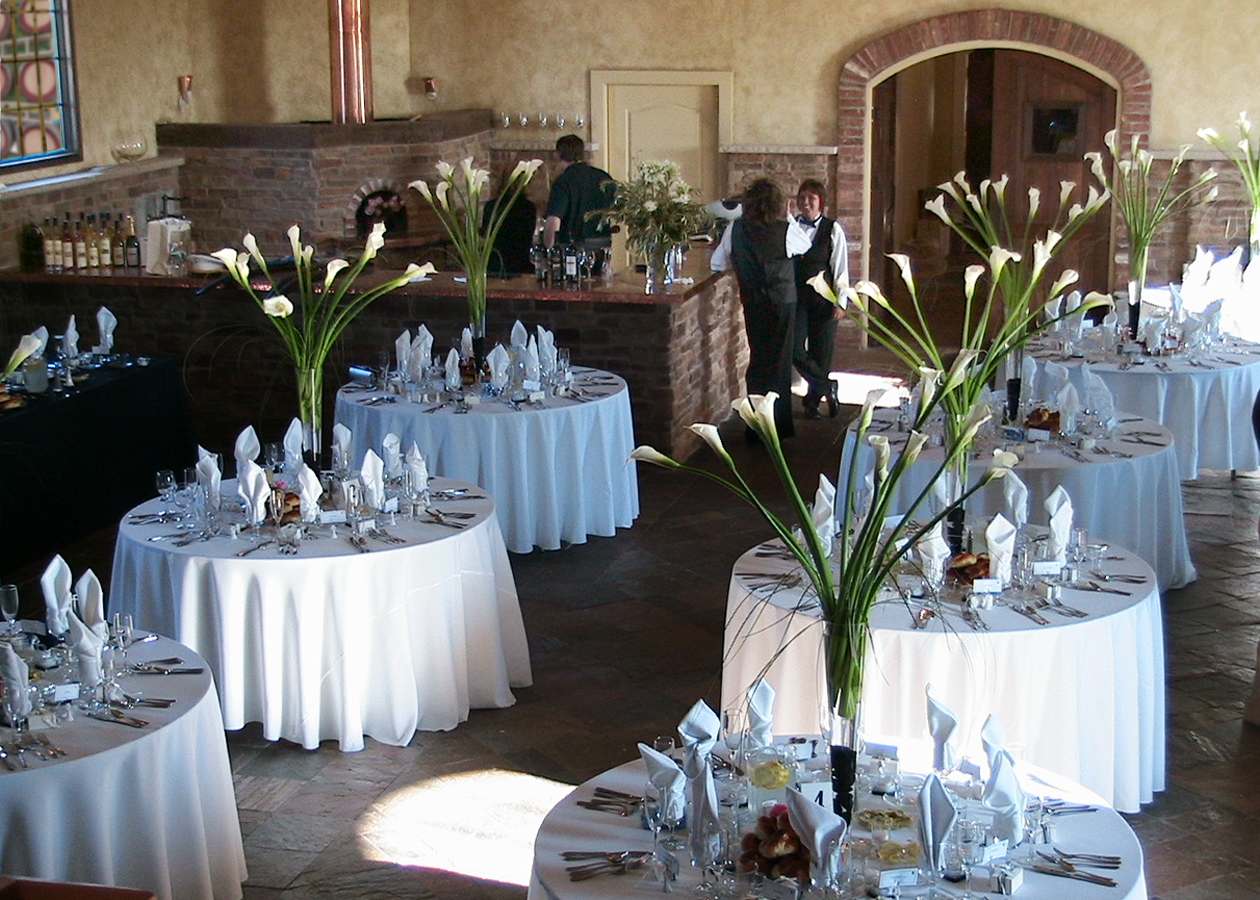 Vineyard Weddings are a beautiful alternative to other more commercial and impersonal venues.
Here is an elegant wedding dinner reception ready to commence at Hopewell Valley Vineyards. 
Weddings and wineries are a match made in Bride Magazine heaven. 
What could be more picturesque, romantic, and timeless than celebrating your love and union with friends and family under the backdrop of a lush vineyard?
Where grape clusters dangle from the vines...
The dotted hillsides remind you of A Midsummer's Night Dream...
The cobblestone paths and piazza lights remind you of Europe...
And where an abundance of wine - the timeless, celebrated beverage of LOVE - is around ever corner, sleeping in every barrel, restless in every bottle, dancing in every glass under the stars?
While the imagery is undeniably romantic, don't let it intoxicate you completely! 
At least not until you're done walking down the aisle...
Before you reach your Shakespearean fairy tale ending, keep your feet on the ground. 
You've got to navigate through how to plan a beautiful winery wedding.
Luckily, here at Hopewell Valley Vineyards, we've done it all before. On BOTH sides of the planning... :-) 
Through the years we've been honored to host the special moments of many of our loyal friends and patrons...even within the Neri family, Alexandra and Reed, got married on the vineyard in the fall of 2011. It was a gorgeous day! 
And here's a beautiful testimonial from Ellie & Steve:
Dear Violetta,
Steve and I want to thank you from bottom of our hearts to yours for making our wedding turn into a beautiful fairytale. It's something that's worth remembering by everyone. 
Our guests are still talking about how beautiful our wedding was and how it well organized it was. Most of our guest took a lot of pictures of this beautiful winery as our wedding memorabilia.
I cant imagine this wedding would have been successful without everyone's help from the beginning to the end. We are so grateful for all of your expertise for turning this wedding the most memorable day of our lives. Special thanks to Anne Marie who made the detailed arrangements in the middle. She also handled our million questions and annoying details with a smile. 
You have referred the greatest band, The Jung Wombats, who made the crowd loud. They made a real party time!  Chez Alice made our ceremony and reception so beautiful! Food was great and cake was beautiful! Oh not forgetting the HVV jazz ensemble who jazzed up our cocktail hour! And again, you have reminded me of my mom, thank you!
We left a part of our hearts in your winery on our wedding day that we shall be looking forward to reminisce every day.
It's a day in a place were beauty is all what you can see and love is what all you can feel. 
Thank you so much for everything you have done just to make our wedding an extra ordinary event of a lifetime. From our family to yours..Thank you very much.
- Ellie & Steve

So with all that said...we're here to help for smooth sailing up to your "I Do"... whether you know you want your wedding at Hopewell Valley Vineyards, another New Jersey Winery, in Napa County, or in South Africa!
If its a vineyard wedding - most all this information will apply to you!
Happy Winery Wedding Planning!
Planning your winery wedding?
Keep in mind these three important pages...
Vineyard Weddings Part 2: What season is right for your winery wedding?
Vineyard Weddings Part 3: Winery Weddings have a lot of...WINE! 
Vineyard Weddings Part 4: A blend of tips based on our experience setting up winery wedding celebrations for many years...You don't want to miss these!!
* * * * * * *
---
* * * * * * *
To be kept in the loop on HVV happenings...
join our monthly e-zine On The Vine...
WHAT ARRIVES IN YOUR INBOX:

winery events




monthly calendar

upcoming festivals

feature articles

product reviews

wine interviews

exclusive offers

and more! 
On The Vine is sent at the beginning of each month, straight to your inbox!
* * * * * * *
Have A Great Story About This Topic?
Do you have a great story about this? You can share it here without needing a Facebook account! You can even upload pictures!
Dec 04, 14 04:30 PM

When France lost Algeria in 1960, a great worry of winemakers wad what are we going to do now? French wines from many regions WERE B,ENDED WITH MUCH STRONGER

Dec 04, 14 03:26 PM

How to make port wine - delicious, heart-warming, the perfect gift

Nov 01, 14 04:25 PM

Wine accessory shopping for the holidays