Judgement of Paris:

From Greek Mythology to New Jersey Tasting Rooms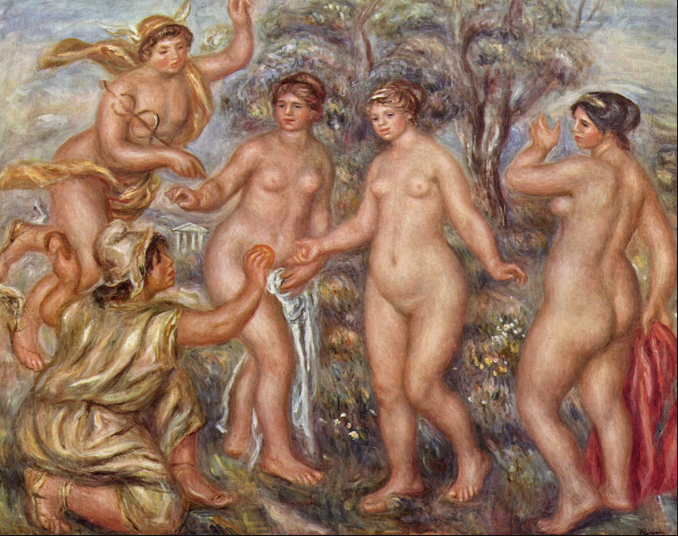 It seems many advances in the wine industry have evolved from weddings of great significance.
I mean when you think about it, the first miracle Jesus was said to have performed was turning that ever boring water into magnificent wine and we all know what a good bottle of wine can do! That is why it is not surprising to see that one of the wine industry's greatest historical measures of competition evolved from a very controversial wedding scenario.
Come on, admit it....you are curious now aren't you? 

When Eris the Greek Goddess of discord is not invited to the wedding of Peleus and Thetis, (really, in-laws can bring enough discord, why would you invite someone who specializes in this?) she gets an attitude to put it mildly.
Into the crowd of guests Eris tosses a golden apple and addresses the remaining Goddesses, taunting them with the gift, it is to go to the "fairest one".
Ok, now we can see where this is going right?
Go ahead and put a bunch of Goddesses into a room together and tell them to figure out who is the fairest of all, well needless to say it did not go well!
Zeus took them to Paris of Troy for the judgment to be made and this became known as the "Judgment of Paris".
Ok, this is not the whole story, but if you want to know more you'll need to brush up on your Greek Mythology!
Moving on from a beauty contest to a competition of great wines may appear to have little commonality but trust me the ideology is not that distinct.
From the Mythological Greek Goddesses to the prestigious wines of France, the term known as "The Judgment of Paris" has become synonymous with the contest of the elite.
For American wine lovers, this contest of blind wine sampling, instigated by members of the somewhat presumptuous French wine industry, has given the American wine makers and their audience a revival of significance and a healthy dose of good old fashioned bragging rights.
I wonder how that same sampling method would serve in judging Jersey wines against California wines. ..... we will see.
Happy tasting!!
Have A Great Story About This Topic?
Do you have a great story about this? You can share it here without needing a Facebook account! You can even upload pictures!
Dec 04, 14 04:30 PM

When France lost Algeria in 1960, a great worry of winemakers wad what are we going to do now? French wines from many regions WERE B,ENDED WITH MUCH STRONGER

Dec 04, 14 03:26 PM

How to make port wine - delicious, heart-warming, the perfect gift

Nov 01, 14 04:25 PM

Wine accessory shopping for the holidays