Pasta and wine: a pairing guide
PERFECTING YOUR PASTA AND WINE PAIRINGS...
In Italy, everyone knows how to whip up their favorite pasta dish, like spaghetti aglio, olio e peperonicino.
From busy employees hustling to and from work, mothers needing to feed impatient children at the table, and college kids burning the midnight oil studying, these hearty pasta dishes keep Italy fueled and moving forward. 
And Americans too have carved out a special place in their bellies for delicious pasta dishes.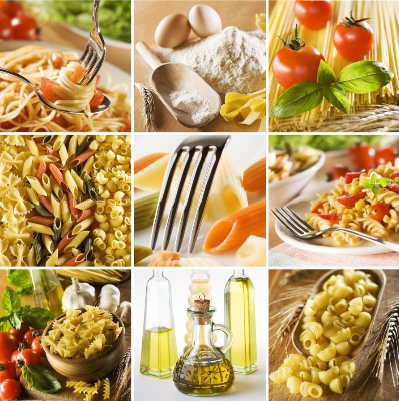 From spaghetti to ravioli, tortillini to angel hair pasta, pasta has become a staple in the American diet as well - and when these easy to make dishes are paired with the right wine counterparts, a simple, quick meal becomes an excuse to unwind with friends, or a romantic masterpiece to be enjoyed with your loved one. 
The beauty of pasta is that it's a simple - yet versatile - ingredient in any meal. It's like a white canvas on which many bright colors (or flavors) are painted on and mixed in. 
But not all pasta is the same.
To the contrary, pasta comes in almost any shape, size, or color.
But these differences are certainly not just aesthetic. Both pasta and wine share this complexity and style.
By using different types of grains, or changing the shape or length of the pasta itself, you indelibly alter the entire dish, and the way our taste buds and other senses perceive it.
The different pasta textures available deliver flavors in completely different ways. 
Pasta and wine guide:
Here are six types of pastas Italians adore...
and you will, too:
Bucatini: bucatini is similar to spaghetti in shape, but not in texture. It's thicker than spaghetti and hides a tiny hole that runs down its thick middle. It's also a bit chewier than spaghetti, and is highly absorbent of flavors, like smoked meats or spicy cheeses. Similar pastas: spaghetti (smaller) and linguine (flattened) and tonarelli (square shaped).
Fettuccine: fettuccine is ribbon-like in shape, with a broad flat surface that easily holds up to heavy sauces or olive oil. Yet given it's flattened shape, it also does not overpower fresh vegetables, wild mushrooms, or herbs that could be added to the dish. Similar pastas: Papardelle (thicker) and tagliatelle (thinner). 
Manicotti: Manicotti boasts a thin, tubular shape that's perfect for cheese stuffing like ricotta or a delicate goat cheese. Conchiglioni (i.e. giant seashell pasta) share similar types of recipes and stuffings.
Rigatoni: Similar to manicotti in shape, rigatoni differs in its thickness and grooved texture which is useful to stick with many bits and pieces in heavier pasta sauces, like grounded meat, melted cheese, or vegetable pulp. Similar pastas: penne (longer) and gomito (elbow-shaped) are similar in texture, but can also be found without grooves. 
Orechhiette: These funny looking pasta flakes are doughy, a irregularly textured, with a slight cupping effect that reminds some of ear lobes (hence its name "little ears"). It's slightly off-white color is do to using an egg-less pasta dough. Other pastas are more yellow or golden in tone. 
Trofie: A Liguira specialty, trofie are two small pieces of pasta twisted together, that are lined with a crevice that's perfect to hold heavier, fragrant sauces like basil-filled pesto. Similar pastas: Busiate (curly-shaped) and Fusilli (corkscrew-shaped). 
Pasta and Wine Guide: General Pairing Advice
Now the question goes - how to pair pasta dishes with the right wines?
To answer this question we're gonna break down wines into four basic categories, and then give some pasta and wine suggestions.
Given that pastas can differ so much in texture, size, sauce, and ingredients, not one type of wine will work for one type of pasta every time, of course, but here are some ideas to get you going in the right direction:
Light-bodied whites: pair with light-sauces, such as olive oil with garlic/pepper, as well as with lighter fish and seafood ingredients, such as raw sea urchin or mussels with spaghetti. 
Dry whites: pair again with light-sauces, but also with a few heavier ingredients, such as nero di seppia (squid ink sauce), seared tuna, or baby clams with linguine. Also wonderful with pasta dishes filled with fresh vegetables like peas, asparagus, and artichokes. 
Light-bodied reds: pair with pasta dishes that are heavy on cheese, creams, mushrooms, truffles, and saffron sauces. A ragu sauce can also be used if the red wine has a spicy punch to it or is high in tannins. 
Bold, structured reds: pair with the heaviest, most elaborate pasta dishes you desire, like ricotta-stuffed ravioli, pasta con carne, egg-heavy sauces, and butter-heavy sauces. The heavy red wine will help break down the proteins of the pasta dish and sauce, and so aid in digestion as well as enjoyment. 
* * * * * * *
---
Have A Great Story About This Topic?
Do you have a great story about this? You can share it here without needing a Facebook account! You can even upload pictures!
Dec 04, 14 04:30 PM

When France lost Algeria in 1960, a great worry of winemakers wad what are we going to do now? French wines from many regions WERE B,ENDED WITH MUCH STRONGER

Dec 04, 14 03:26 PM

How to make port wine - delicious, heart-warming, the perfect gift

Nov 01, 14 04:25 PM

Wine accessory shopping for the holidays