Wine, Resveratrol And Health Benefits
Wine has several health benefits. Many are the result of tongue-twisting resveratrol.
Why this is so, research has yet to explain. Yet, in research journals, studies continue to support this beneficial role.
The studies are impressive.
They are found in a wide variety of scientific journals.
These include the American Journal of Medicine, Mini Reviews in Medicinal Chemistry, Current Pharmaceutical Design, The Journal of Nutritional Biochemistry and Investigational New Drugs.
They conclude that there is something to the belief that it may prove to be effective in certain circumstances.

What Is It?
Wine contains several polyphenols, among them, a stilbenoid. This occurs naturally in many plants. It is also regarded as an antioxidant compounds e.g. phytoestrogen resveratrol. It is also a phytoalexin.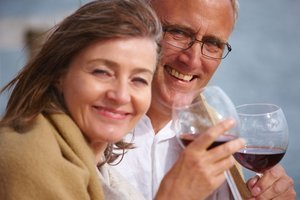 Specific Benefits

Research published in the American Journal of Medicine in 2002 stated that the compound exhibited the following characteristics. It was:

An antioxidant
Antithrombotic
Anti-inflammatory

The same study indicated it was also capable of inhibiting carcinogenesis.
Other research has stressed the ability of this phenol to establish a balance between bad (LDL) cholesterol and high-density lipoprotein cholesterol (HDL or good cholesterol).
A study in Current Pharmaceutical Design (2012) also noted "the pro-oxidant anti-cancer behavior of resveratrol as a dietary chemo-preventive agent."
Furthermore, this specific phenolic or antioxidant compounds also acts to thwart injury to vascular tissues and the heart.

Recently the pharmaceutical and cosmetic agencies have been looking at another potential use. This concerns the aging process.
Some research does appear to support the ability of it to "turn back time."
This is resulting in an increased awareness of the phenol and the manufacture of a pill to help slow down your body's natural aging process.
It is this latter, in particular, that can increase the potential for side effects.
Side Effects

There are potential side effects.
If you consume the amount found in two or three glasses of wine a day, the likelihood of side effects is negligible.
If, however, you consume large amounts, as is possible through digesting pills, these may occur:
Diarrhea
Achilles tendonitis

Joint pain
Insomnia
Anxiety

In addition, there are certain reasons why you should not drink wine or consume amounts of this compound.
If you are pregnant or breast feeding, take care to avoid wine.
You can choose, however, to obtain it from other sources e.g. grape juice, certain vegetables, nuts.
The same holds true if you are planning to undergo surgery. If taken prior to or after an operation, it is possible to increase the chances of bleeding.

Red Wine And Health: A Summary
Resveratrol is a phenolic compound found in wine.
When used wisely, it is possible for benefits to occur.
If misused or abused, side effects can result.
While research is continuing to explore the mechanisms, there is no reason why we all can't sit back and enjoy the soothing and healthy effects of a glass or two of wine.
Drink up to your health! 
* * * * * * *
---
Have A Great Story About This Topic?
Do you have a great story about this? You can share it here without needing a Facebook account! You can even upload pictures!
Dec 04, 14 04:30 PM

When France lost Algeria in 1960, a great worry of winemakers wad what are we going to do now? French wines from many regions WERE B,ENDED WITH MUCH STRONGER

Dec 04, 14 03:26 PM

How to make port wine - delicious, heart-warming, the perfect gift

Nov 01, 14 04:25 PM

Wine accessory shopping for the holidays