A knockout Seafood Quiche Recipe!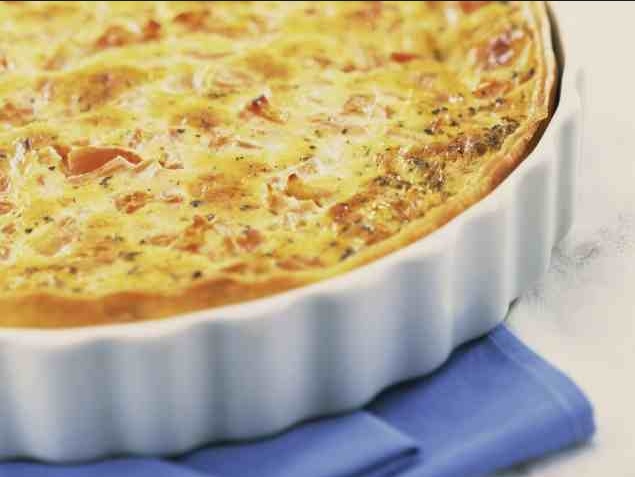 Seafood Quiche Recipe! Look no further! We've got you covered! :-) 
Quiche is a favorite French food that's both nutiritious and easy to bake. It makes a perfect breakfast dish, or even as a light lunch with salad or fresh bread rolls. 
This quiche recipe is unique because of its seafood ingredients - which usually aren't featured in quiches at all.
It's for four people and will take us approximately an hour to prepare and bake. 
Seafood Quiche Recipe: Ingredients List
The ingredients that we will need are the following:
one finely chopped shallot
one tablespoon of fresh butter
1/2 glass of white dry wine (in our case we recommend a Pinot Grigio)
1/2 pound of mussels (with shells)
1/2 pound of clams (with shells)
1/3 pound of peeled and boiled shrimp
ready-to-bake dough for quiche or pie (such ready-to-bake doughs are widely available at food stores in various sizes - usually an aluminum pan comes with the dough, so all you have to do it add the ingredients and pop it in the oven!) 
4 eggs
finely chopped parsley
5 ounces of heavy cream
salt
fresh ground pepper
Seafood Quiche Recipe: Cooking Steps
In a large deep frying pan you lightly saute the shallots with the fresh butter. Pour atop the dry white wine (Pinot Grigio) and let it almost completely evaportate in the pan, over a low flame.
Wash very carefully the seafood under cool running water. Add the clams and mussels to the frying pan, keep stirring and set to a high flame. Stir just two or three times on a high flame. In about three minutes the shellfish will begin to open. Strain the shellfish from the pan, and keep the broth. 
You filter the broth through a filter and paper towel, to remove any sand remnants. A coffee filter also does the trick!
Remove the meat from inside the shells (mussels and clams). 
Now we clean and cut the shrimp in smaller pieces.
Place all the shellfish and the shrimp atop the pie crust dough.
In a bowl, hit all the eggs with the heavy cream, finely cut parsley, salt, and fresh ground pepper. Also add a glass of the shellfish broth that you've saved. 
Pour the mixture atop of the shellfish in the pie crust, and bake at 400 degrees for just 30 to 35 minutes. 
When the quiche is ready, remove it from the oven and let it cool down for ten minutes before cutting it into serving portions.
What pairs well with our seafood quiche?
Share with a light salad, and a glass of sparkling wine, like Spumante Secco.
Cheers and enjoy! 
---
Have A Great Story About This Topic?
Do you have a great story about this? You can share it here without needing a Facebook account! You can even upload pictures!
Dec 04, 14 04:30 PM

When France lost Algeria in 1960, a great worry of winemakers wad what are we going to do now? French wines from many regions WERE B,ENDED WITH MUCH STRONGER

Dec 04, 14 03:26 PM

How to make port wine - delicious, heart-warming, the perfect gift

Nov 01, 14 04:25 PM

Wine accessory shopping for the holidays