The Tulip Glass & The Ideal Wine Glasses
STEMWARE BASICS FOR WINE APPRECIATION
Tulip glass? Flute glass? Trumpet glass? You thought tulips were flowers, flutes and trumpets musical instruments, right?
Well not in the wine world! 
However your wine journey starts - in plastic cups, household glasses,  mason jars, beer mugs...eventually you'll come to the point where good wines beg for their proper stemware.
If this seems like a snobbish rubbish, believe me, it's not.
Good wine tastes a LOT better with proper stemware - so make the up front investment, and enjoy better tasting wine from now until forever! 
How is this possible you ask? Magic? Perception? Marketing? You be the judge - but first consider these factors:
Color: Wine glasses are always clear. A wine's color leads an important visual clue as to how young or old a wine is, and what type of grape was used. Its an important element to the wine drinking experience that can't be sacrificed for pretty pink glasses, or green goblets, let alone your four year olds Scooby Doo cartoon glasses.
Size: For dry reds and whites, small glasses are unacceptable. By the time your fill up a normal drinking portion, you'll have no room to swirl the wine without spillage, and so how are you going to comically stick your nose inside and sniff out all those delicious aromas waiting for you after every swirl? Small glasses are adequate only for sherry and dessert wines, such as Dolce Vita and Porto Rosso, because they do not require any swirling to display their aromatic bouquet, and are usually consumed in much smaller quanities than regular wines (although hey, I'm not judging!). 
Red wine glasses should hold 12 ounces minimum, although better glasses have capacities of 16 to 24 ounces, sometimes even more. The more roomy the glasses, the more swirling, the more enjoyment. 
White wine glasses can have between 10 to 12 ounces capacity.
Sparkling wines only need 8 to 12 ounces. 
Glass thickness and shape: Thin, fine crystal stemware costs a pretty penny, but it's no joke the wine tastes better out of crystal than regular glassware. Besides the quality of glass itself, the shape also plays a vital role. Some glasses offer big bellied bowls to cradle your reds, others offer narrow trumpet-like bowls for an elegant sparkling or champagne. 
Stemware 101: Sparkling wine glasses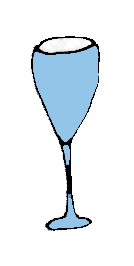 The tulip glass for sparkling wine: The tulip glass is the ideally shaped glass for enjoying all the bubbly celebrations in life. With its tall, elongated shape, and long stemware, you'll not heat up your sparking wine with your hand, you'll have a nice sturdy stem to chink glasses with, and the narrower top rim helps hold in the wine bubbles longer.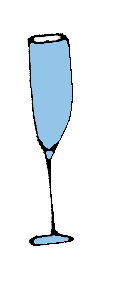 The flute glass for sparkling wine: The flute glass is a second option for sparkling wine, offering many of the same advantages as the tulip glass (long stemware, narrow bowl). The biggest difference is that the flute glass has a narrower bowl than the trumpet, and as such, does not narrow at the rim effectively enough to hold in the bubbles in the same capacity as the tulip glass.
The trumpet glass for sparkling wine: Despite its good looks, avoid this type of wine glass as much as possible. Not only does the trumpet glass widen at the rim, effectively airing out the wine bubbles instead of containing them, it also offer almost no adequate stemware to hold onto the glass without heating up the wine with your hands hold. Your sparkling, chilled wine will fizz out sooner, and warm up faster, with a trumpet glass, so besides looking pretty in a china cabinet, trump glasses hold no seriously useful purpose in your wine glass collection. 
Stemware 101: Red wine glasses & stemless wine glasses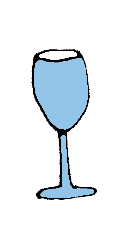 The Bordeaux glass for red wines: The standard wine glass is oval-shaped, big-bellied glass that closes up towards the top rim, and is ideal for most red wines such as: Bordeaux (hence the name), Cabernet Sauvignon, Merlot, Barbera, Zinfandel, Chambourcin. 
However, some finicky reds work best in slightly wider glasses, such as: Pinot Noir, Barolo, Chianti, Sangiovese, and Burgundy. Besides how the glasses actually house the wines, the proper glassware issues also include physical, visceral elements like how the glass dictates the wine's flow as it reaches your tongue, and in what volume.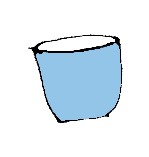 Stemless wine glasses for red wines: Stemless wine glasses are an elegant addition to your stemware collection - with simple, minimal lines that blend perfectly with modern or contemporary kitchens. The no frills stemless wine glass also has the disctinct advantage of being the most hassle free glass to clean - just stick them in the dishwasher, like all other dishes and glasses - without the fear of breaking any delicate glass stems. Only caveat? The stemless wine glass is used exclusively for reds, where the serving temperature is usually warmer, and so the warmth of your hand holding the glass won't adversely affect your wine. 
* * * * * * *
---
Have A Great Story About This Topic?
Do you have a great story about this? You can share it here without needing a Facebook account! You can even upload pictures!
Dec 04, 14 04:30 PM

When France lost Algeria in 1960, a great worry of winemakers wad what are we going to do now? French wines from many regions WERE B,ENDED WITH MUCH STRONGER

Dec 04, 14 03:26 PM

How to make port wine - delicious, heart-warming, the perfect gift

Nov 01, 14 04:25 PM

Wine accessory shopping for the holidays