Purchasing Wine Bottle Openers
Matching wine with your mood, selecting any of the possible wine bottle openers, decanting it, pouring and enjoying it is often the highlight at the end of a hard day.
Looking to buy wine bottle openers online?
Click here to browse HVV's selection!
Wine comes in many different styles. There is something to satisfy even the most discriminating taste. It can suit all budgets. It can be an ambassador at any social occasion.
Sigh...Wine is such a wonderful thing!!

Wine is really an ancient pleasure, but, even for us modern wine drinkers, one issue remains...
                ....OPENING THE DAMN BOTTLE!

So - a serious concern remains:

How does one successfully open a bottle of wine without a) dislocating one's shoulder b) pulling out old wrestling moves that went out of fashion circa 1970 or c) lose all credit as a self-respecting wine lover..
In the past, this could become a major embarrassment. Even wine aficionados could suffer defeat at the hands of a particular bottle.

But alas, today, wine lovers of all shapes and bicep sizes can relax...technology has advanced beyond the basic bottle opener.
Once again, 'technology saves the day!' (kinda)...

It is now possible to select any of a number of specific wine bottle opener designs.
Whether it is part of a gift basket or a new toy for the wine boy, it is possible to select a new and different wine bottle opener to delight even the most finicky of friends.
In fact, there are antique corkscrews, classic bottle openers and even quirky or decorative specialty openers.

Bottle Openers – The Basics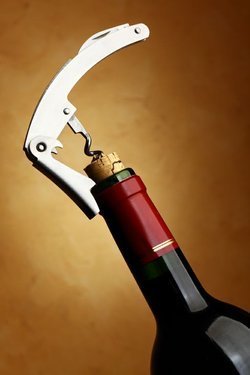 Behold the lowly corkscrew. This device has been responsible for opening wine bottles for many years, centuries in fact!
When using a classic corkscrew, sometimes the cork simply pops right out of the bottle. Other times, dismal failure results and bits of cork drop down into the bottle (mmm..delicious!).

Yet, corkscrews are not all of the same design. Several types of corkscrews exist. Among them are:
Waiter Style: This compact opener derives its name from the users – waiters in restaurants. This handy folding device features both a knife for cutting the foil and the corkscrew. The lip on top allows leverage. Unless an expert, always use on a sturdy surface
Lever Style: These are more recent in popularity. It features a wing on either side. The intent, as with all corkscrews, is to remove the cork. With this type, however, removal takes place in one easy movement.
Screwpull: Often employed in home use, this tool features a longer worm (screw part). It does not come with a foil cutter.
Butler's Friend: This type of opener is usually reserved for fragile corks. Another name for it is the Ah-So. A unique device, this corkscrew is for those with some expertise. It demands skill, and patience, in removing the cork since it does not puncture the cork but pulls it out without making a single hole.

Twist Style: If you twist the handle after placing the worm directly on the bottle's cork, this is an example of the twist style
Pump Style: This is a technical wonder. Using a little skill and a CO2 cartridge, it is easy to pop out the cork.

Brands of corkscrews include Forge de Laguiole Corkscrews and Rogar Corkscrews. Wineries offer their own brand and/or have their own preference.

Bottle Openers – Goin' Electric, Baby!

Rather than mussing and fussing with a bottle's cork, many have turned to the electric bottle openers.
These sleek and very stylish ways of opening wine bottles may be more expensive than the hand-operated ones, but they are an easy-peasy alternative. You hardly have to lift a finger!

In most cases, you simply push a button.
The electric wine opener reaches in and the cork pops out - no fuss, no mess, no bother.
Among the more popular electric openers is the Oster 4207 electric wine opener. In fact, Oster electric bottle openers are known for these characteristics:
Stylish
Ergonomically designed
Fits all traditional wine bottle shapes and sizes

Easy operation
Cordless operation possible
Hassle free operation
Cordless
Not The Opening, The Closing
Wine bottle openers are obviously a necessary wine accessory.
So finding a wine opener that you love to use is essential if you want to adopt the wine lifestyle.
While a little bit of cork floating in a bottle of wine is acceptable, too much is not.
Determine your needs and look at what is available. Do research online and talk to other wine lovers.
In the end, select a wine opener that suits your needs and your pocket book. The right match can make all the difference! 
* * * * * * *
---
Have A Great Story About This Topic?
Do you have a great story about this? You can share it here without needing a Facebook account! You can even upload pictures!
Dec 04, 14 04:30 PM

When France lost Algeria in 1960, a great worry of winemakers wad what are we going to do now? French wines from many regions WERE B,ENDED WITH MUCH STRONGER

Dec 04, 14 03:26 PM

How to make port wine - delicious, heart-warming, the perfect gift

Nov 01, 14 04:25 PM

Wine accessory shopping for the holidays