Choosing Wine Gifts Wisely

There is always that one person on your list who is hard to shop for.
Choosing wine gifts may prove to be an ideal solution!
When it comes to holidays and special occasions, a bottle of wine or other wine-related items may surely be the perfect answer.
Gifts of wine are classy, individual and make a strong impression.
Here at New Jersey's Hopewell Valley Vineyards we get all kinds of special requests around the holidays - from holiday baskets, to wine gift certificates, to wine accessories that we help visitors pick out in our winery gift shop. 
Soon you'll also be able to conveniently purchase custom-made baskets in NJ or simply wine accessories through our online store as well! 
Ideas for Wine Lovers

When it comes to gifts, wine and wine accessories are ideal for wine lovers.
The selection of suitable items is plentiful.
Whether it is for someone who is just beginning to discover wine or for a connoisseur, the correct gift does exist.
A partial list of potential wine-related gifts includes the following:
Fine crystal decanters
Hand-carved cork screws
Electric wine bottle openers
Wine books
Vintage wines

Ice buckets

Ice tongs
Stoppers

Labels
Wine chiller sleeves

Wine totes
Wine bags
Wine racks
Wine cabinets
Wine furniture
If the gift recipient is a mild to avid wine lover, it is hard to go wrong!!
Overall, wine basket gifts are a wonderful gesture.
Yet, whether it is wine or a wine-related item, selecting the right present still requires care.
This is particularly true when a bottle or case of wine is involved.
A gift of wine is endearing, but it also requires awareness in making the most appropriate selection...let's start that process below!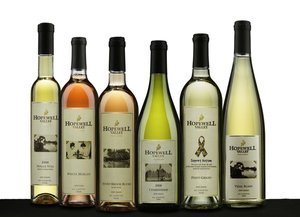 If The Gift Is Wine
Selecting a bottle of wine may be complicated, especially if the individual is one you do not know very well...so let's brainstorm how to find the perfect wine gift:
These are factors you should keep in mind when making a wine selection:
What type of wine does the gift recipient like to drink? White? Red? Sparkling? If you know, great! If not, keep going down the list...

Do they usually drink wine as part of a meal, or as an after dinner sipper?

If they drink wine at meals - do they consume more red meat or fish?

What time of year are you planning on gifting? Summer needs more light-bodied wines, whereas in winter you have much more variety to choose from..

Is this is a 'special occassion' gift? If so, I strongly recommend going with a sparkling wine, like a Spumante Secco, or Spuma Rossa.
Is the gift recipient an avid port drinker?
While wine makes a quality gift, it is helpful if you know the person and his or her taste in wine first. 
Another potential option is to talk to a friend of the individual. He or she may have the right information to help simplify your wine shopping.
TIP: If none of these approaches is possible, play it safe with a quality dessert wine!

Often, a bottle of wine as a gift does not arrive solo.
For many special events, wine gift bags or wine gift baskets are common.
These frequently contain several wine-related items.
Attractive wine accessories, such as designer corkscrews or crystal decanters, are common additions.
Various types of other food may also comprise part of a wine gift basket e.g. cheese or seafood.
Whenever in doubt, the resolution is simple...can you spell....
.....g-i-f-t  c-e-r-t-i-f-i-c-a-t-e?   :-)
This is an uncomplicated solution.
It also ensures individuals obtain exactly what they need or, at least something that matches their taste in wine.

Wine For Special Occasions
When it comes to celebrating a special occasion with a gift, wine says it all. Vintage wine is often the most common and indicated choice.
Consider the following match-ups when purchasing wine for a birthday, wedding anniversary, and retirement party or an election campaign win:

For the New Year, Champagne is always in order.
A wedding is fashionable with champagne or a New World sparkling wine.
For Christmas, mull over one of several potentials – perhaps one of the seasonal wines, a mulled wine or a late harvest Vidal Blanc. Wine, after all, does have its season.

Wine For Thought
Wine is an elegant gift that expresses thoughtfulness and reflects the taste of the sender and the receiver.
Whether it is a fine red wine, a crisp clear white or a cheery red rosé, do take care to pick wisely.
Choose for the special individual and/or to mark the special occasion.

* * * * * * *
---
Have A Great Story About This Topic?
Do you have a great story about this? You can share it here without needing a Facebook account! You can even upload pictures!
Dec 04, 14 04:30 PM

When France lost Algeria in 1960, a great worry of winemakers wad what are we going to do now? French wines from many regions WERE B,ENDED WITH MUCH STRONGER

Dec 04, 14 03:26 PM

How to make port wine - delicious, heart-warming, the perfect gift

Nov 01, 14 04:25 PM

Wine accessory shopping for the holidays