Winery Weddings:
Whats the Best Season for YOU?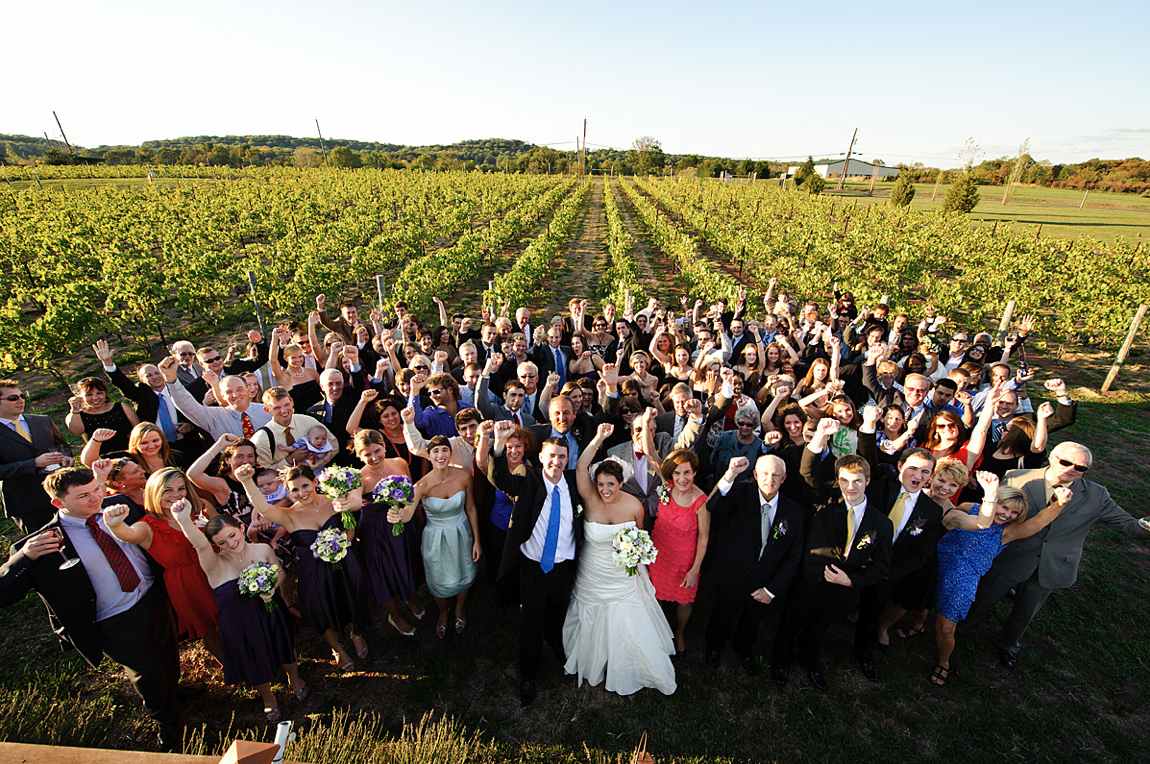 Winery weddings can be held both outside amongst the vines, or inside besides the barrels...here is Alexandra's & Reeds beautiful fall wedding at Hopewell Valley Vineyards, near Princeton New Jersey. Wedding photography by Gary & Aneta Photography. 
Will it be an outdoor or indoor vineyard wedding?
Or perhaps a combination?
Does the winery have as beautiful an indoor setting as outdoor setting? Does the space match the aesthetic of the vines? Lighting? Flooring?  While vineyards are undoubtedly beautiful - remember that not all wineries are created equal. Some vineyards start out as hobby offshoots of a bigger agricultural production - and its facilities may be more basic. It certainly doesn't mean that their wines aren't up to par, but their winery facilities may not be versatile or comfortable enough to host a wedding. Other wineries are more geared towards visitors and hosting private events. 
Does the winery offer a beautiful space to enjoy the barrels? Or are they all in an industrial-looking warehouse under fluorescent lights? At HVV, we have large barrels in an intimate setting below the main reception room. While its not big enough for a full-blown celebration, it is just perfect for a small cocktail hour, or a cheese and wine pre-party, or a buffet style arrangement. 
Yes? Great! Moving on...
What is the indoor color palate and decor of the winery? 
Vineyards generally have more neutral tones than say - a trendy wine bar in the city. Winery weddings must be planned with this in mind. It can be difficult for wineries to cater to various decorating requests, especially if they host events often.
What season works best for your wedding plans? 
Spring is a beautiful season, but the vines may not be fully mature and lush with leaves. And  the clusters of grapes hanging? Forget about it! Instead, focus on spring flowers! 
Summer is a better season for the vines, although if you're having a strictly outdoor wedding, then heat becomes of prime concern. Plus, summer showers are often sudden, strong, and unpredictable. 
Autumn is probably the best season for a vineyard wedding. The weather is usually more stable - the humidity levels are comfortable, the the autumn colors change both in the surrounding trees, as well as on the vines!  
But with autumn, other things are out of your control...
...If you're betting on having grapes still on the vines, remember that fall harvesting is at the discretion of the wine maker, and it varies from season to season. 
Plus, autumn is an in-demand season for many types of events, so unless planning early, you may not find the date you'd like at the vineyard you've chosen. 
What about winter winery weddings? Do they even exist? Actually, they do!!
Sure - the land around may be sleeping, but wineries offer an undeniable old world feel, and cozy indoor ambiance. Our winery has an intimate barrel room, plus a tasting room with a beautiful wood stove that we light on chilly winter days. You could also serve hot drinks like mulled wine! 
If you're fixed on an outdoor wedding, ask the winery about their planned outdoor landscaping...
A winery's garden bed arrangements often change from year to year. Sometimes, reasonable requests can be accommodated by the winery if given enough time. 
Plus, some perennials may be in bloom come your big day, so it could be nice to thematically tie them into your winery weddings floral bouquet, or table arrangements. 
To tent or not to tent? 
If you plan on an full outdoor vineyard wedding, don't just bet that the weather will be picture perfect...you need a back up plan!!
Hope for the best, of course, but can you accept a wedding in a tent if its a rainy day? If it'll destroy your whole day - think of having an outdoor ceremony, which is usually shorter, and an indoor reception, when dinner is served, speeches are made, and music and dancing ensues... 
How is the indoor room's acoustics?
Some wineries have basic and functional facilities - make sure this won't negatively effect your comfort and enjoyment.
Will you need to bring equipment or does the winery provides things such as projectors, microphones, amplifiers, and stage lights? 
Even if you've been at the same winery for a different event, like a corporate luncheon for example, that used an overhead projector, never assume that during winery weddings the same equipment will be available for your event as well! Always double check, and it never hurts to bring extra batteries, cables, CD's etc, in case something goes haywire...
Indoor & Outdoor Wedding Photographer is a MUST! Don't get stuck with a hefty price tag for poor images!
Only consider a wedding photographer who is equally talented for indoor and outdoor photos, and who can switch effortlessly between the two without an hiccups or delays in your day.
Ask to see his or her portfolio - make sure there are is a diverse range of settings, indoor, outdoor, buildings, lightings, seasons, and time of day...Not all wedding photographers feel equally comfortable in different photo shoot settings!
My sister, Alexandra, had phenomenal pictures taken by Gary and Aneta Photography. We highly recommend them if you are in the NJ/PA/DE/NY area...
* * * * * * *
To be kept in the loop on HVV happenings...
join our monthly e-zine On The Vine...
WHAT ARRIVES IN YOUR INBOX:

winery events




monthly calendar

upcoming festivals

feature articles

product reviews

wine interviews

exclusive offers

and more! 
On The Vine is sent at the beginning of each month, straight to your inbox!
* * * * * * *
* * * * * * *
---
Have A Great Story About This Topic?
Do you have a great story about this? You can share it here without needing a Facebook account! You can even upload pictures!
Dec 04, 14 04:30 PM

When France lost Algeria in 1960, a great worry of winemakers wad what are we going to do now? French wines from many regions WERE B,ENDED WITH MUCH STRONGER

Dec 04, 14 03:26 PM

How to make port wine - delicious, heart-warming, the perfect gift

Nov 01, 14 04:25 PM

Wine accessory shopping for the holidays