Brunello Di Montalcino memories...
Interview with NJ winemaker Sergio Neri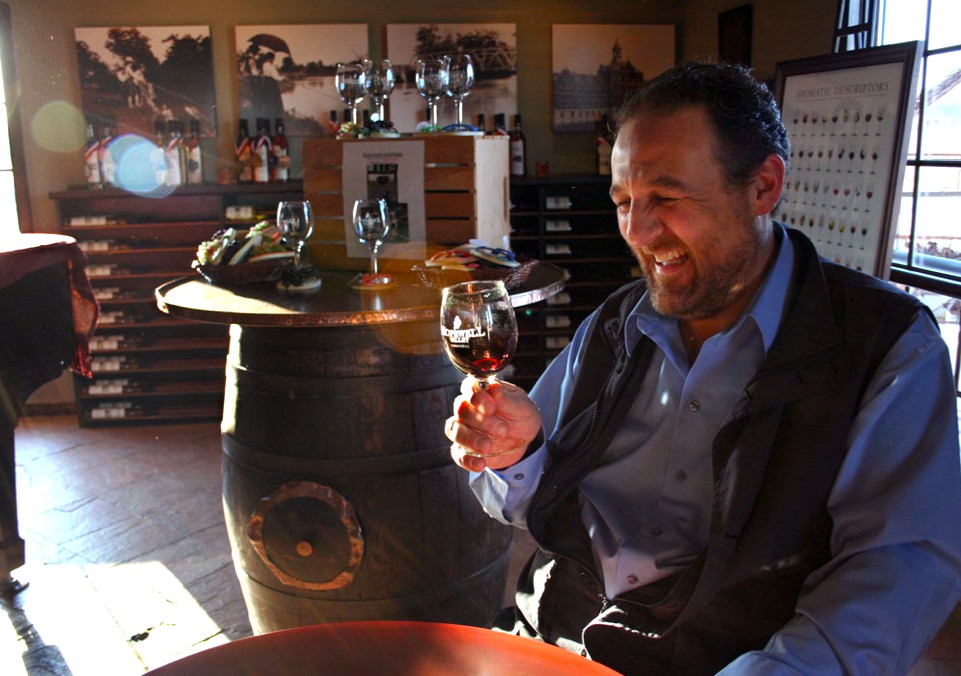 Describe one of your most memorable wining and dining experience?
My family owned a Brunello di Montalcino vineyard and so I have exquisite gastronomic memories of the time when I was about fourteen to the time I went to university, as my family was going to Tuscany so frequently to the vineyard.
I cannot mention any specific location or trattoria, it was long ago, and back then, thirty five years ago they were all authentic. 
We would most often then be drinking Brunello di Montalcino with wild game, pheasant, quails, wild boar, or the million different pasta and sauces in Italy. 
I really remember those years. Those meals.
I remember the taste of the Brunello di Montalcino with those game meats - that's definitely something that looking back at it now, has influenced me as a person and most directly as a wine maker. 
We'd stop in so many different restaurants, in Montalcino, Sienna, along the countryside...
The cooking was so good, there was no formal pairing or strict rules to abide by.
The game meats were heavy enough, and full of protein, to hold up against any of the Tuscan red wines of the region, and Brunello in specific. 
More recent experiences are many as well.. 
Cingialli ragu is a delicious dish that is made most everywhere in Tuscany - but in this one place we visited recently it was surely incredible. 
Another place was when Violetta and I were visiting outside of Naples on the peninsula of Monti di Crochilla and there was a tiny little restaurant that was at the end of a narrow street, and the room was tiny - just five or six tables - the kitchen was nestled in the corner - and I remember it was a family business, an uncle, nephew, grandfather...
Some would go fishing early in the morning and come back with the day's catch and cook up fresh dishes exclusively from that.
One in particular was a pasta with squid ink sauce. 
And one last place that I'll mention now that I really liked was a place in Verona, Valeggio sul Mincio...exquisite as well!
There, we opened a bottle of a great Supertuscan wine, instead of our classic Brunello di Montalcino... 
What wine country would you love to visit and why? Which one has piqued your interest - perhaps as a culture or a new wine destination. 
If I had to pick just one, I'd pick South Africa wine country. 
Australia comes in as a close second. 
But for me - as an Italian, European countries and wineries are close to my heart, but also are more known to me. 
I've spent time visiting France and french vineyards, and while I don't know Spain as well, I know it's very similar to Italy. 
Germany I've also experienced a little bit. 
And I assume that in the South Pacific, in Australia, it's mostly similar to California or the American style.
So South Africa is sort of unique, different - it stands on its own geographically, culturally, etc.
It has northern European influence, origins, from Holland, the Netherlands, Denmark, some British...I cannot picture the wine culture as much so I'd be most interested to see and experience that wine scene.
Who is the one person in the world, dead or alive or fictional that you'd want to share a bottle of wine with?

 

Who is it and whats the wine? 
I would love to have a bottle of San Gimignano - Vernaccia, in San Gimignano with...Leonardo da Vinci. I'd love to sit in the town square with Leonardo da Vinci.
That would be an amazing conversation...first I'd lean forward and say... "Honestly, Leonardo, how did you THINK of all those ideas and inventions?"
Jump Back to Sergio's Interview: Part One & Part Two

* * * * * * *
To be kept in the loop on HVV happenings...
join our monthly e-zine On The Vine...
WHAT ARRIVES IN YOUR INBOX:

winery events




monthly calendar

upcoming festivals

feature articles

product reviews

wine interviews

exclusive offers

and more! 
On The Vine is sent at the beginning of each month, straight to your inbox!
* * * * * * *
* * * * * * *
---
Have A Great Story About This Topic?
Do you have a great story about this? You can share it here without needing a Facebook account! You can even upload pictures!
Dec 04, 14 04:30 PM

When France lost Algeria in 1960, a great worry of winemakers wad what are we going to do now? French wines from many regions WERE B,ENDED WITH MUCH STRONGER

Dec 04, 14 03:26 PM

How to make port wine - delicious, heart-warming, the perfect gift

Nov 01, 14 04:25 PM

Wine accessory shopping for the holidays