The Benefits Of Drinking Wine
Whether you know it or not, drinking wine offers more health benefits than any other alcoholic beverage.
While you may simply enjoy the taste of wine, the bouquet and the general feeling of relaxation that comes with a glass of wine, you can smile doubly when thinking about the potential health effects you're getting when kicking back with a glass of Cabernet.
To even a cynic (or devote beer drinker!), a fine robust red wine is hard to beat in terms of short and long term health benefits.

Louis Pasteur once wrote,
"Wine is the most healthful and most hygienic of beverages."

He was certainly not alone in his high esteem of wine and wine drinking...Thomas Jefferson is also credited as saying:
"I think it is a great error to consider a heavy tax on wines as a tax on luxury. On the contrary, it is a tax on the health of our citizens."
Who can argue with that, right? :-)
In fact, for centuries, people of all cultures and classes believed in the health benefits derived from wine.
From the ancient minds of Hippocrates and Plato, to Shakespeare, to Emerson, to Jack Kerouac, to...well, you get the picture!
Today, modern research has solidly proven the benefits of wine that so many have enjoyed and written about throughout the ages:
The Facts:

While many wine drinkers prefer the dry attitude of a Sauvignon Blanc or a crisp, fresh Riesling, truth is white wines are not going to be as beneficial as drinking red wine. Research overwhelmingly demonstrates that wine drinkers benefit most from consuming red wine.
Why this unfair bias for red wines, you ask? Nothing personal.
It all has to do with how the grapes are produced into wine. Red wines are produced by using not only the grape pulp (like most whites) but also the grape skin. And the grape skin is the part most densely packed with nutritional value in the form of antioxidants, vitamins, polyphenols, and phytonutrients.

In other words, if you're drinking wine for its acclaimed health benefits, put down that Pinot Grigio or full-bodied Semillon. Take up, instead, a spicey, tangy Barbera, a medium, ripe Merlot or a full-bodied Cabernet Sauvignon. This is the direction to take if you wish to enjoy the health benefits from wine drinking.
All other benefits of drinking wine are equal, of course!
So while red wine is the most prominent health supporting alcoholic beverage, all wine has a mild calming effect, helping you relax naturally, which is why we unwind after uncorking that bottle.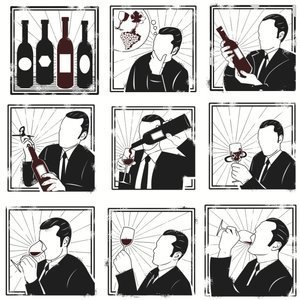 What Are The Benefits Of Drinking Wine?
In general, the drinking of red wine is an effective means of reducing the risk of developing several cardiovascular and other health problems.
Research indicates potential effectiveness at decreasing the chance of:
Atherosclerosis – plaque builds-up on the inside of the arteries
Heart disease
Hypertension or high blood pressure
Kidney stones
Alzheimer's disease
Cancers

Yet, red wine contains specific antioxidants and polyphenols responsible for health benefits. One of the major factors in red wine's ability to decrease the risk of various health problems is a little something called resveratrol.

What Is Resveratrol?
Resveratrol is a polyphenolic phytoalexin – a chemical compound naturally produced in several plants, including red wine grapes, raspberries, blueberries and cranberries. Peanuts and Japanese knotweed also contain this resveratrol.
The purpose of resveratrol is to protect the plant against any attack by fungi or bacteria (something highly useful in the biological evolution of sensitive grapes!).
Research on resveratrol has found it also produces neuroprotective effects in animals, keeping the brain and neuro-system in tip-top shape.

So a lifestyle of moderate wine consumption just might help keep our brains, hearts, and souls healthy and young!

For more in-depth information on the power of resveratrol click here

Other Healthy Components Of Red Wine
Yet, resveratrol is not the only protective substance found in wine...
A chemical analysis of wine indicates that each glass of wine contains over 200 different poly-phenols. These phenolic compounds, in turn, are comprised of many substances we call antioxidants.
In addition to resveratrol, wine contains quercetin, and the catechins. These antioxidants are polyphenols and flavonoids. Essentially, it means these all act together to contribute in preventing disease and degeneration due to aging.

Why Drink Red Wine? It's Good For You! Cheers!

Drinking wine or other types of alcohol can be healthy for your cardiovascular system.
Moderation, however, is the key to success. Excess consumption will result in increased health risks.
Drinking red wine is one means of keeping a healthy balance in one's life, but it is not the only way.
A healthy diet full of living, raw foods (greens, fruits, vegetables), plenty of exercise and preventative care of the body are also necessary.
* * * * * * *
---
Have A Great Story About This Topic?
Do you have a great story about this? You can share it here without needing a Facebook account! You can even upload pictures!
Dec 04, 14 04:30 PM

When France lost Algeria in 1960, a great worry of winemakers wad what are we going to do now? French wines from many regions WERE B,ENDED WITH MUCH STRONGER

Dec 04, 14 03:26 PM

How to make port wine - delicious, heart-warming, the perfect gift

Nov 01, 14 04:25 PM

Wine accessory shopping for the holidays