Rose wine and food pairings
Rose wine and food pairings are essential for the hot summer months.
Plus, rose wine is coming back in style with a vengeance. And why shouldn't it?
Roses are irresistibly fun, drinkable wines that are versatile enough to go from a light outdoor lunch to a knock out dinner combo. 
Their vibrant colors may suggest more amateurish wines, but drinking is believing. 
Many roses, like Hopewell Valley Vineyards' Stony Brook Blush (pic below), possess excellent flavor profiles and are drier and crisper than one might expect - which allows for a full display of flavors and aromas without the mouthfeel being dragged down in a seriously heavy-bodied wine, or a perceptible sugar content that blankets out other elements in the glass.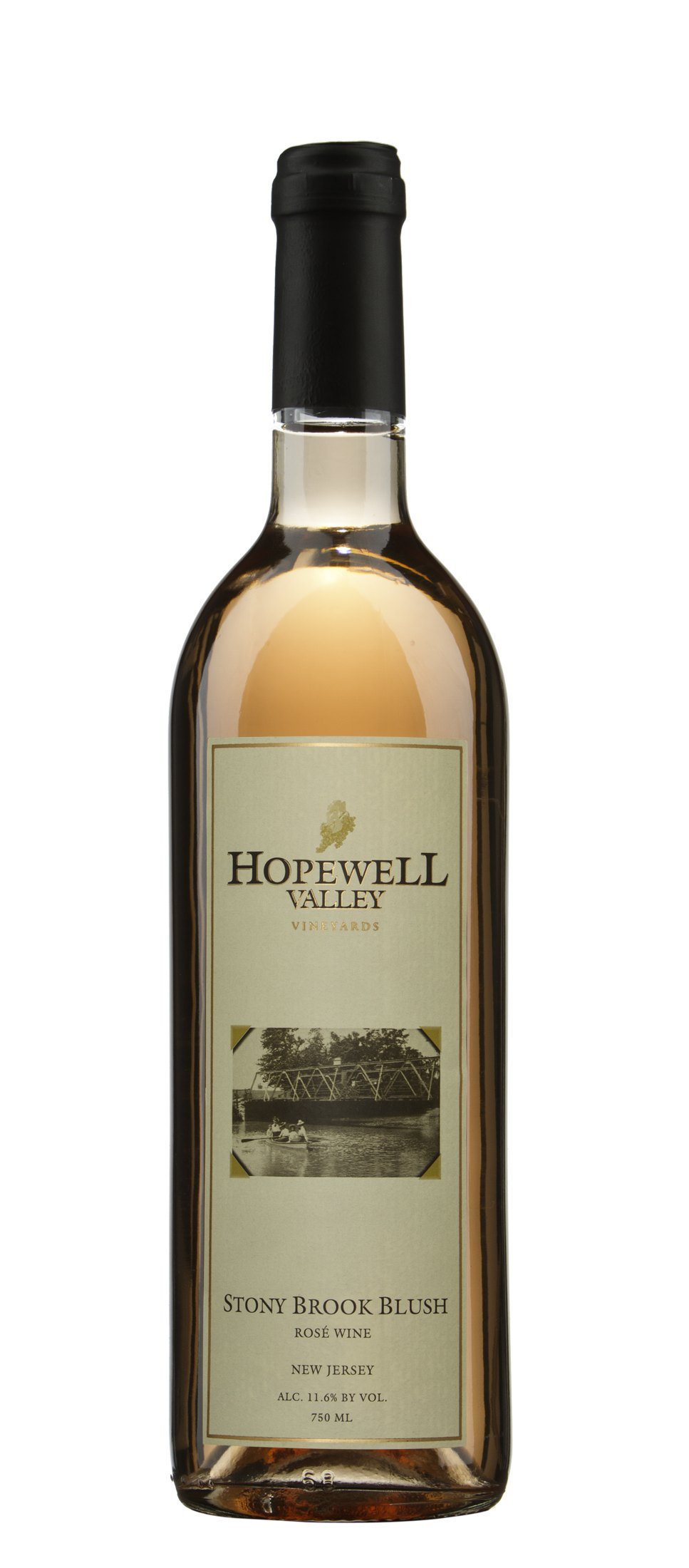 That being said, good roses do boast some structure. And given the type of grape used and maceration period, some exposure to the grape skins will deliver a slight tannic yield, deeper hue, and a perceptible body as well.
But what makes rose wine a summertime staple is that it's irresistibly and dependably refreshing. They lift you up and lighten your days during those otherwise sweltering summer months..
But being a bit of a middle man, not a white wine - but certainly not a red wine either - it's harder pairing rose wine with food than it is with the other two wine types.
But after a bit of head scratching it's easier to come up with great rose food pairings than one thinks. Here are some guidelines to get you started:
Rose wine and food pairings: tips
do not pair rose wine with foods that will drown out its delicate flavor. So stay clear of: tomato sauces, red meat dishes, butter, heavy creams, eggs, and overpowering aromatic spices. 
light pasta dishes - like linguine with olive oil, garlic, and mussels - make a wonderful choice for roses. 
even stuffed pastas - like a vegetable-stuffed cannelloni, or a ricotta stuffed ravioli, will work. The trick is that if cheese is used, is should be extremely light, mild and neutral in flavor, almost whipped in texture, or otherwise an easily paired, not-pungent cheese.
roses can work well with many seafood dishes that focus on the minimal preparation to let the seafood flavors shine - lobster tail, lightly grilled crab cakes, and shrimp cocktails are all excellent proteins that complement a well structured rose. 
summer salads of course are also an excellent option - just steer clear of bitter greens like kale and dandelion greens that will quickly smoother your rose glass with all the wrong flavors, and instead think of water-filled vegetables and fruit like iceberg lettuce, chard, bok choy, clementines, pomegranate kernels, watermelon slices, apple slices, and strawberries. 
A light goats cheese, even perhaps a mild blue cheese, can be the perfect addition to these types of summer salads with your rose wine.
Wondering how rose wines are made? Click here.
* * * * * * *
---
Have A Great Story About This Topic?
Do you have a great story about this? You can share it here without needing a Facebook account! You can even upload pictures!
Dec 04, 14 04:30 PM

When France lost Algeria in 1960, a great worry of winemakers wad what are we going to do now? French wines from many regions WERE B,ENDED WITH MUCH STRONGER

Dec 04, 14 03:26 PM

How to make port wine - delicious, heart-warming, the perfect gift

Nov 01, 14 04:25 PM

Wine accessory shopping for the holidays