NJ Wine Trends Exposed...
Oenophile Violetta Neri Interview 
Part II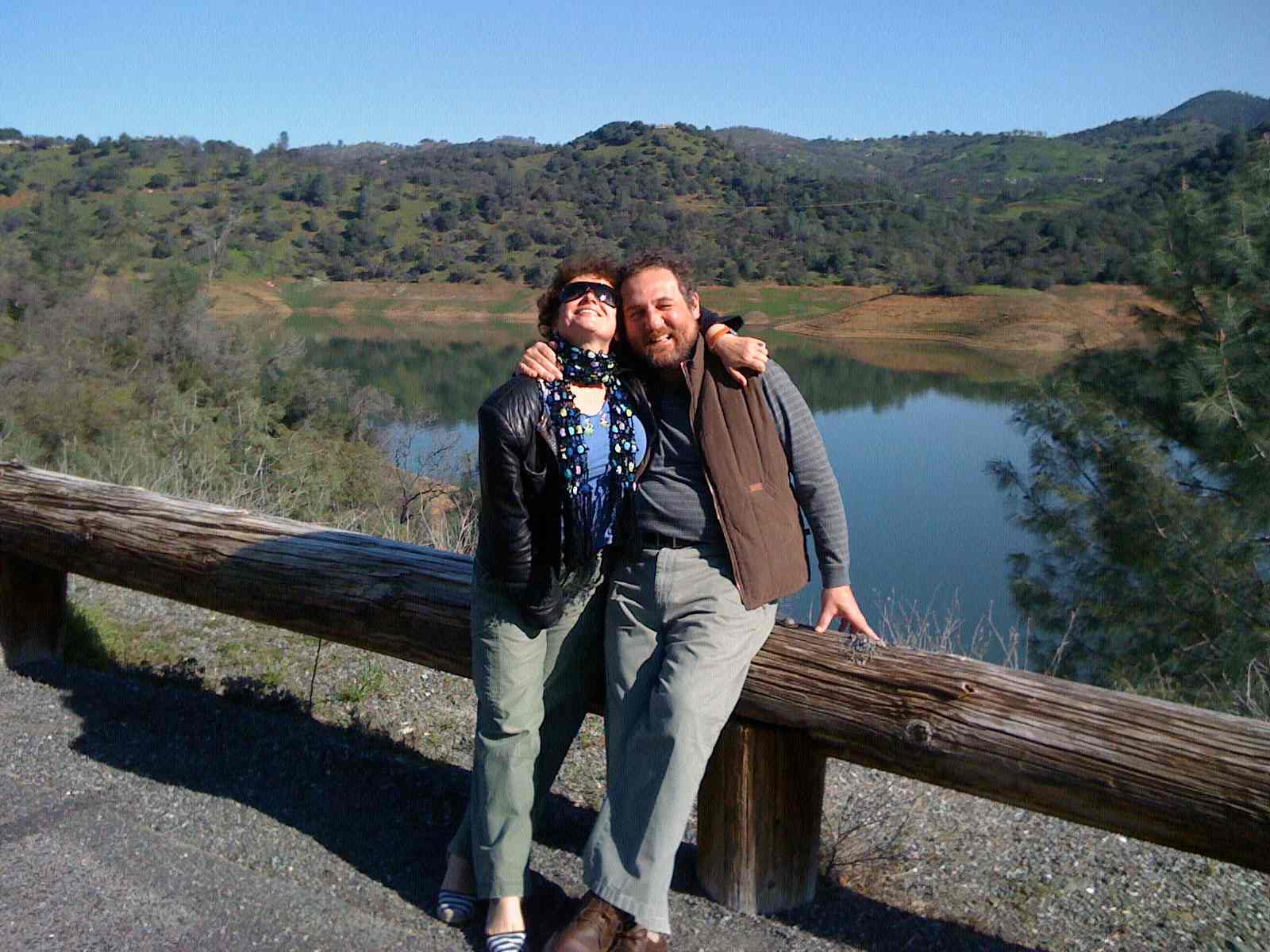 Violetta & Sergio Neri in California for some wine tasting across the country!
What's your impression of New Jersey wineries today?
Overall I believe that NJ wine trends are enthusiastically growing on a local level, and slowly gaining sophistication in production. 
There are select few NJ wineries that do produce some really fine wines that can stand out there in competitions, nationally and internationally.
These are from New Jersey wine makers who focus their attention exclusively to the quality and to the proper production of wine.
They're not overdoing it - they produce wines with respect to the end product, and to the new jersey image and reputation as a bourgeoning wine country.
Others are perhaps not quite there yet in quality...They're doing their best, though I'm not quite impressed.
My hopes are that every New Jersey winery will mature in technique and demand to produce sophisticated wines.
But unfortunately, a lot of them still produce a lot of heavily sweet drinks.
If one wanted to enhance their cash flow - they would produce a lot of apple, pear, peach, banana, mango, pinapple drinks - and then call them 'wines'.
These are not wines.
Wine is an ancient art - it goes back a few thousand years.
And wine is made with grapes.
And I couldn't be stricter on that evaluation as a person.
So all these other drinks are wonderful for those who like syrupy fruit drinks.
But we here at Hopewell Valley Vineyards don't make those and are careful about what wine trends we let influence our production.
Not because we don't want to be successful monetarily.
But out of respect for what we do and offer, and for the wine traditions we've inherited, we adhere to very strict rules of producing good wine.
That is why we do what we do.
[For a broader scope on the topic check out:  NPR Article. NYTimes.]
A few wineries do produce excellent wines, that are making a positive dent in New Jersey's wine making industry, image, and wine trends - even as new poster children for the entire state.
But the vast majority - 80% of the wines in New Jersey - are considered syrupy wines or fruit wines.
We're not partaking in this kind of reputation in wine trends.... In fact we have no interest in that direction of wine trends.
And actually we're very proud not to. We, along with other serious winemakers in the state, are trying to steer it into a more sustainable, authentic direction.
But its a growing industry, I think it's the fastest growing industry in the last ten years in New Jersey.
I think these NJ wine trends are of exceptional importance in today's economic climate, and the government should take notice and enhance the abilities of wineries to sustain themselves, to function, and to support them.
This is when we need the SADC, and local governments to really appreciate what the vineyards and wineries have to offer to any given locality, and push for more of it!
It brings in the agritourism, it enhances the quality of life with open space, farm-centric recreation, it produces revenue and tax, and there is no reason to go against them, or to obstruct these positive developments due to shortsightedness in governing.
It's also creating a whole new, fresh, green image for New Jersey.
We as Hopewell Valley Vineyards put this township and town on the map of New Jersey, ....and programmed into GPS gadgets of out-of-state visitors...
The winery became a destination, so Hopewell became a destination.
And what I say to people when they come, which is very true is, you may like the room, the stars, the piano, the piazza, all lovely, beautiful. Certainly the winery is a nice building.
But if you don't like the wine, you will never find your way back here.
You will quickly forget it and move on. But if you like the wine, you will inevitably find a way back.
And thats why we focus on the quality of the wine, to sustain our business through a strong reputation for excellent wines. 
We want to be contribute to the best of our ability NJ wine trends that boost Garden State wines global reputation.
Describe one of your most memorable wining and dining experiences...where were you, who were you with, what wine...

The most memorable experience in terms of wining and dining, was of course in Italy...it has to be in Bulgary, Tuscany, where we were traveling with old family friends of my in-laws.
We went to this beautiful little place were they made wild boar with flat noodles. The food was amazing.
My red wine was fantastic.  A solid Chianti Classico.
So that was a fantastic dining experience...out in the country, so far away from the noise of big cities, but the food...oh the food...just amazing, in every possible way.
Another memorable story for me with wine is right here in New Jersey...I lived in Lambertville for a year with very close friends.
So we were living in a house that backed up to the canal and the tow path.
So one of my friends and I one night took a bottle of wine and sat on the patio...watching the people walking by, the geese and ducks floating by on the water, and we started chatting...
The day rolled by and we finished the wine bottle, the discussion was carrying on about all sorts of things in life...and so two bottles of wine later we happily solved plenty of problems and happily returned to our respective homes for the evening.
I will never forget that because it was just wine and discussion. There was no food.
And thankfully my tolerance to wine is quite admirable...I managed to enjoy without getting sick or anything.
We're still very close friends and talk once and a while about that epic conversation. 
One last wining and dining experience I'll mention is when I was in law school, in Greece.
There was this train station in the city where I was studying and by the railroad tracks there were a couple of tavernas.
And one of them was a very humble place, small, nondescript, very simple...but with a wonderful cuisine.
So a whole bunch of us students would go there, have them bring us lots of red wine, whatever they had available in bulk from their production, and they would make us  lots of delicacies, lamb chops, grilled liver, all sorts of local delicacies...
So we would eat and drink for hours in there...it was a true education in life. 
What is your philosophy on wine and food pairings?

Oh, this is a whole topic in wine trends. A branch, science or you know, business out there.
You can take that and analyze it to the tenth degree.
You could write dissertations on that.
On how it complements, the fatty acids, the sugar, the saltiness, the bitterness.. the whole nine yards and every aspecting of taste and perception.
And I respect that, and I think it is wonderful for people who have a deep interest and cultivate that deep interest to such a large extent, to the benefit of all of us really.
But for me - I'm too much a straight shooter. I'm an instinctive wine drinker. I don't rely on theory. I can't follow those types of food and wine trends personally. 
It's a simple matter of liking a wine and going with it.
Since I only drink red wine, my choices are greatly simplified.
No matter what I eat, it's red wine.
No matter what temperature it is outside - 100 degrees or minus twenty...it's red wine.
So it is a wonderful thing, yet not for this particular person.
Yet I highly appreciate those who choose to engage with it more deeply.
I'm monolithic, I guess?
Would you ever splurge on a $100 bottle of wine?

Absolutely! If I know the wine and I really like it, I will absolutely do so. I would probably go for either a Northern Italian very dry, very red wine or a totally robust, all out California Cabernet. 
What wine country would you like to visit and why?

Well, I've visited France before, but never to its wine-growing regions.
So I would love to go to France for that reason.
I haven't been to Burgundy or Bordeaux.
And I've always had a deep appreciation for French culture, and their wines.
So I would really like to go and visit and engage with their wine culture more personally.
Being exposed to other countries' wine culture and wine trends is nothing but beneficial to us as winemakers here. 
How does wine enjoyment fit into your daily life?

Like a glove.
I drink wine with my lunch. I drink wine with my dinner.
It fits in very well.
Actually I don't remember a day in recent history that I haven't had any wine.
Honestly. I do need to eat every day, right? My wine goes with my food. So I need to drink my red wine every day!
Who is the one person, that you'd like to share a bottle of wine with?

My father.
Because now I associate more so than ever before wine with sitting down, talking, relating...connecting on a human level.
So there are a few things I would like to share with my father...reflecting back on my life, and his life.
And what would be a better way to share those conversations than over a bottle or two of wine?
We would be in Liknades, our village up in the Greek mountains, in our small courtyard in front of our home, and it'd be a dry red for me and a Retsina for him. 
There are wine trends that never fade: like good wine and conversation with the people you love most. 
Didn't read Part One of Violetta's interview? You can find it here. 
* * * * * * *
To be kept in the loop on HVV happenings...
join our monthly e-zine On The Vine...
WHAT ARRIVES IN YOUR INBOX:

winery events




monthly calendar

upcoming festivals

feature articles

product reviews

wine interviews

exclusive offers

and more! 
On The Vine is sent at the beginning of each month, straight to your inbox!
* * * * * * *
---
Have A Great Story About This Topic?
Do you have a great story about this? You can share it here without needing a Facebook account! You can even upload pictures!
Dec 04, 14 04:30 PM

When France lost Algeria in 1960, a great worry of winemakers wad what are we going to do now? French wines from many regions WERE B,ENDED WITH MUCH STRONGER

Dec 04, 14 03:26 PM

How to make port wine - delicious, heart-warming, the perfect gift

Nov 01, 14 04:25 PM

Wine accessory shopping for the holidays