Restaurant Etiquette for Wine Lovers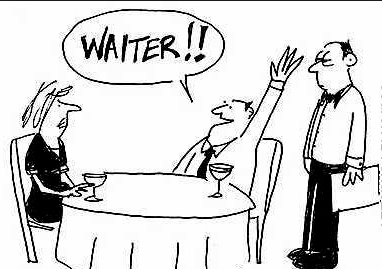 I had a chuckle when googling 'restaurant etiquette'... Photo credit: Housewife Eclectic
Restaurant etiquette for wine lovers is essential for a pleasant and comfortable night out. Wining and dining go hand in hand, and that's not likely to change any time soon.
Whether you're exploring the many BYO restaurants in your area, or headed to the fanciest restaurant in town with a famed wine cellar, it's important to know what to expect while drinking and being served wine at restaurants. It helps you, your table guests, and the wait staff feel more comfortable throughout the evening. 
Here are six basic rules of restaurant etiquette (and wine etiquette) to keep in mind:
Restaurant Etiquette Rule One: The Ice Bucket.
Most wait staff will assume you want an ice bucket for your white and sparkling wine selections.
But check the bottle itself before plunging it in the ice - oftentimes the wine is already plenty chilled to be served, and over-chilling can actually diminish your wine drinking experience.
If your white wine is already in an ice bucket but you think it's getting too cold, remove it, wipe it off with the adjacent towel (which should be draped next to or around the ice bucket), and leave it on the table for several minutes before serving.
If you have other wines in the bucket saved for later in the meal you can happily leave the ice bucket where it is.
But if you're only planning on drinking the one white that's on the table, kindly ask the waiter to remove the ice bucket.
In contrast, red wines are oftentimes a bit too warm to be served immediately, and a few minutes in the ice bucket can do wonders to reviving a heat-exhausted red before consumption.
Even if it's against 'wine code' and your server looks at you like an alien, ignore the stuffy stares and move on - just be sure you don't over-chill a red, which can happen suddenly and quickly.
Just 3-4 minutes in the ice bucket should suffice for a red. 
Restaurant Etiquette Rule Two: The Wine Glasses.
Most restaurants stock various sized wine glasses to meet every occasion.
If you feel their standard wine glasses that have been already placed on the table are too small to enjoy red wine (leaving too little space for sniffing and swirling) kindly ask your waiter if larger stemware is available for your reds.
Most times there are other glasses available, and if not, a stemmed water glass, which usually has a bigger belly than their elegant wine glass counterparts, can also do the trick.
While this may seem at first glance a snobby request - it really isn't...
Larger wine glasses, appropriate for red wine drinking, help both you and the restaurant avoid embarassement of spilled red wine all over the white table cloths after a slightly too vigorous swirl - which is a likely outcome of using short and improper stemware.
Restaurant Etiquette Rule Three: Decanting the proper wine at the table.
Several types of wine do well with a bit of wine aeration prior to being drunk in order to soften their tannic punch and allow their other flavors to unfold.
Uncorking the bottle alone will not suffice, so you have two other options.
The first and best option is to ask the wait staff if they can provide you a decanter to aerate your wine at the table.
Any good restaurant that knows wine will be able to provide one without question.
If it's a homely, smaller BYO establishment unequipped with too many wine accessories, simply pour the wine into their biggest stemware and wait a bit longer. 
Restaurant Etiquette Rule Four: Keep the bottle nearby.

Having the wine bottle nearby allows you and your guests to engage with the wine you ordered more deeply.
You can inspect the wine label, check out the producer, distributor, and alcohol content on the back label, pass around the bottle, examine the cork, etc. Perhaps you picked up your favorite wine from a local New Jersey winery, and want to open up a conversation about it with your friends - having the bottle nearby is an easy conversation prop and centerpiece. 
Plus, with the bottle in arms reach, you don't have to wait for your server to refill your glasses, you gain back control of the flow of wine at the table, which also helps deter waiters who quickly over-fill empty glasses as a sneaky strategy to entice your party to order a second or third bottle when it'd be otherwise unnecessary. 
Restaurant Etiquette Rule Five: Know the wine presentation ritual. 

The wine presentation ritual is an important element to wining and dining, and knowing what purpose each step serves will take away its inherent awkwardness and allow you to truly make the right decisions as needed.
Feel comfortable to refuse any wine that tastes or smells unpleasant - it could have cork taint or could have been aged incorrectly.
Whatever the reason, by knowing the wine presentation ritual and when to do what, you'll cut down these chances and keep things flowing beautifully. 
For a full description of the wine ritual and how to ace it - click here. 
Restaurant Etiquette Rule Six: Bringing your own wine?

While of course BYO restaurants are designed to accept beer and wine (although hard liquor is usually not permitted), most other restaurants that have their own wine lists, allow guests to bring in special bottles for special occasions, although you should always call ahead of time, out of consideration to ask.
Usually the restaurant will charge a corkage fee (to cover costs of serving the wine, the stemware, etc) that ranges from $10 to $30 per bottle, so be prepared for this extra charge and don't wait until the bill arrives to dispute it.
The more extensive the restaurants wine list, the more hefty the corkage fee is likely to be. BYO's are usually pretty reasonable.
Also - and this should really go without saying - don't think it's acceptable to bring in a wine that's already listed on the restaurant's wine list.
Yes, you may have procured it at a cheaper price elsewhere, but restaurants are businesses too, and every business has its own price mark-ups, overhead, risks, and etiquette.
If you're simply looking for some cheap wines, Trader Joe's offers plenty, and while you're there you can pick up a variety of food and make a night out of it at home.
Otherwise, if it's a restaurant atmosphere you're after, be prepared for an extra mark up, and be okay with that. 
* * * * * * *
---
Have A Great Story About This Topic?
Do you have a great story about this? You can share it here without needing a Facebook account! You can even upload pictures!
Dec 04, 14 04:30 PM

When France lost Algeria in 1960, a great worry of winemakers wad what are we going to do now? French wines from many regions WERE B,ENDED WITH MUCH STRONGER

Dec 04, 14 03:26 PM

How to make port wine - delicious, heart-warming, the perfect gift

Nov 01, 14 04:25 PM

Wine accessory shopping for the holidays